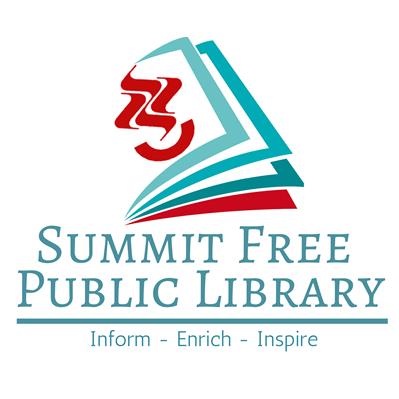 Summit Library February 2021 Programs
The Summit Free Public Library will continue virtual programming via Zoom in February with a number of informative programs being offered for adults.
Why Do Lovers Send Greeting Cards, Candy, and Roses on February 14?
Kevin Woyce is back with Valentine's Greetings on Tuesday, February 2nd at 7 p.m.  In his newest holiday program, author, photographer, and musician Kevin Woyce explores the romantic history of Valentine's Day, from Saint Valentine, Cupid, and the first Valentine cards to some of the season's most popular songs. The slideshow is illustrated with original photographs and lots of vintage Valentine's Day cards and art.
Let's Get Crafty!
Crafting pro Marge Barkan returns with a new craft project—this month she'll be showing participants how to make a T-shirt infinity scarf in the latest in our series, Make Your Own: T-shirt Infinity Scarf on Wednesday, February 10th at 11 a.m.  No sewing required! This will be a Facebook Premiere video, which allows you to return to the video to review your progress and for additional guidance.  The first 15 registrants will receive a t-shirt to use for the craft (you supply the scissors).
Learn Meditation Techniques with Umesh Bhatia
On Wednesday, February 10th at 7 p.m., meditation expert Umesh Bhatia returns to presentMeditation for Modern Times. The ancient tradition of meditation has become even more valuable for people due to daily stressors and the added stress of COVID-19. Meditation is a tool that can be used to cope with the challenges of everyday life and reduce stress. There are many benefits that come from meditation on a physical, emotional and spiritual level. During this engaging workshop you will learn a simple time-tested technique and even have the chance to try this out! 
Make your Business Buzz-worthy
Join Michael Roderick, Small Pond Enterprises CEO and expert in referability and relationship building on Tuesday, February 16th at 7 p.m. for a 90-minute presentation-Being Referable: How to Get People Talking About You and Your Brand.  Are you an entrepreneur or small business owner? Then this workshop is for you. Get tips and advice to some practical applications for getting people talking about you and your brand!
History Lessons
On Wednesday, February 17th at 7 p.m., storyteller Lou Del Bianco presents Out of Rushmore's Shadow: the Luigi Del Bianco Story. Portraying his grandfather, Luigi Del Bianco, Lou talks about his unsung contribution as chief carver on our nation's greatest memorial, Mount Rushmore. Lou uses authentic photos, timelines and primary source documents to bring Luigi's story to life. The presentation culminates with designer Gutzon Borglum's praise of Luigi, the 25-year struggle to get him recognized and the tribute where a plaque at Mount Rushmore is finally unveiled! This program is a dramatic and touching story about Luigi's legacy and the immigrant struggle.
Can We Talk
About books that is! Join librarian Debbie Abrams for Book Talk with Debbie on Thursday, February 18th at 11 a.m. Debbie will provide a selective guide to the most buzz-worthy books each month. Come away with a new title for your list – or at least be able to fake it when someone asks! Bring titles – to recommend or pan – to share with the group.
Explore Your World with Robert Comeau
The library's popular Explore Your World: Minicourses for Adults series returns on Friday, February 19th at 2:00 p.m. with perennial favorite, Robert Comeau of Union County Community College presenting Invisibility and the Gaze: Ralph Ellison and Toni Morrison. This six-week minicourse will explore and journey through Ralph Ellison's Invisible Man and Toni Morrison's Song of Solomon. Attendees can read each novel before the start of class-the library will have copies of the book available in several formats including eBook, eAudiobook, and books on CD, and print.
Interested in signing up for any of these programs? You can visit our website at summitlibrary.org and go to the Events tab at the top of the homepage or call the library at 908-273-0350, option 3 to register directly with one of our librarians.  Note, all of the library's programs are currently being delivered via Zoom. You'll receive a Zoom link in your email, typically the day before and the day of the start of the program.