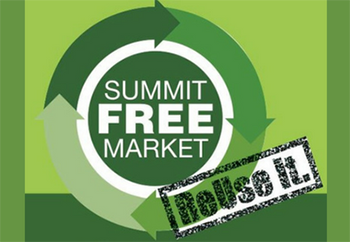 Summit Free Market Returns in October
The City of Summit is announcing the return of its extremely popular Summit Free Market event for two consecutive Saturdays on October 10 and 17, from 8AM to 3PM in its new building at the City of Summit Transfer Station on 40 New Providence Ave.
Due to COVID-19 restrictions, item drop-off and shopping will be by appointment only. Summit residents will be able to sign up for a 30-minute time slot at the October 10 event beginning at noon on October 5 on the City of Summit website at cityofsummit.org. Masks will be required and temperature taken for everyone entering the building. Signups for the October 17 event will open at noon on Tuesday, October 13.
The Summit Free Market Committee is a student-run initiative that hosts seasonal events at the Transfer Station where residents are able to bring reusable, yard-sale quality items to share, and take whatever they may want or need at no charge. Since its inception in 2008, the Summit Free Market has served more than 5000 residents and has kept over 160 tons of reusable material from the waste stream.
Beginning in 2013, the Summit Conservancy led a community-wide effort to raise funds to build a permanent home for the Summit Free Market. It has donated the completed building to the City of Summit. The grand opening ribbon cutting ceremony will be held at the new building on Friday, October 9 at 4PM and is open to members of the public. Masks and social distancing will be required.
Check our Events Calendar for More Local Events