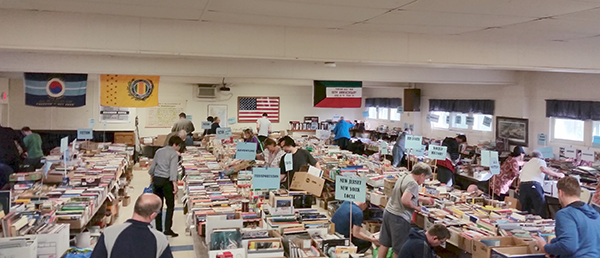 Summit College Club Annual Book Sale April 9 – 14
Each year, tri-state book dealers and readers of all ages wait for the Summit College Club Book Sale, which offers tens of thousands of well-sorted books. Summit College Club (SCC) has run this sale to benefit scholarships for 50 of its nearly 100-year history.
The book sale will take place from April 9th – 14th, 2019, at the American Legion, 357 Elkwood Ave., New Providence.
The first day, Preview Day, April 9, has a $25 admission. All the other days, Tuesday through Sunday, are free. The last day, Sunday, April 14, is Bag Day, when customers may fill a grocery bag with books for a flat $5 per bag.
Hours are from 9 a.m. to 2 p.m. on Tuesday, from 10 a.m. to 9 p.m. on Wednesday and Thursday, from 10 a.m. to 6 p.m. on Friday and Saturday, and from 10 a.m. to 4 p.m. on Sunday.
Nearly all the books are priced between 50 cents and two dollars. Readers often leave with piles of books to enjoy over the course of the year. Teachers replenish their classroom libraries. Many customers return again and again over the course of the week.
"All of our net income," says Hedy Tukey, SCC president, "goes to fund the sizable scholarships SCC gives annually to women graduating from local high schools. The recipients are selected for their achievements in academics and community service."
The Summit College Club is a branch of the American Association of University Women, which promotes equity for all women and girls through advocacy, education, philanthropy, and research. For more information or to volunteer for a few hours, please e-mail summitcollegeclub@yahoo.com.