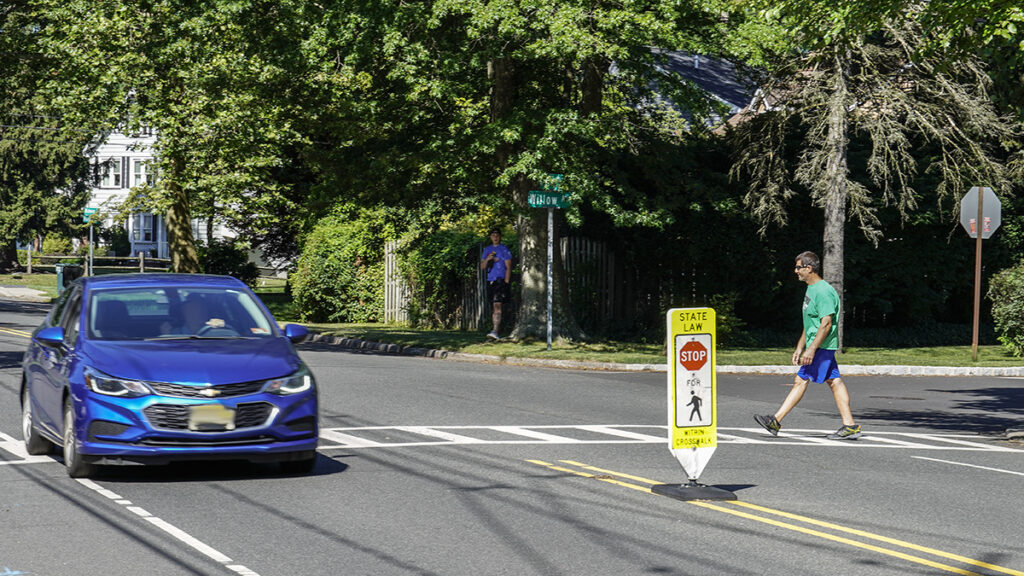 STOP for Pedestrians
Borough of Fanwood
Those signs in the middle of crosswalks that say 'Stop For Pedestrians In Crosswalk' really mean it, as 89 drivers found out recently on Midway Avenue in Fanwood.
Fanwood Police have launched an education program to remind drivers that they have to stop when pedestrians are trying to cross the street in a marked crosswalk and must wait until they have completely crossed before proceeding. The state crosswalk law took effect in 2010. Violators may incur two points and a $200 fine. More information can be found at:nj.gov/oag/hts/pedestrian.html
"Right now, this is an education program," remarked Lt. Dan Kranz who took part in the special detail. "We're not writing tickets today. We are here to remind drivers about the law."
The detail consisted of a "decoy" pedestrian–Sgt. Phil Ugone who was specially trained–crossing at the marked crosswalk on Midway Avenue at Willow Avenue. Cars that failed to stop or didn't wait until he was completely across were stopped a block away by uniformed officers who reminded drivers of the law and handed them a pamphlet. No violations were issued. One individual was arrested on unrelated, outstanding warrants.
"Everyone's been very friendly," remarked Officer Rob Jastrezbski, one of the officers handing out pamphlets.
"We'll be doing more of these in the future," said Lt. Kranz.
Photos by Tom Kranz