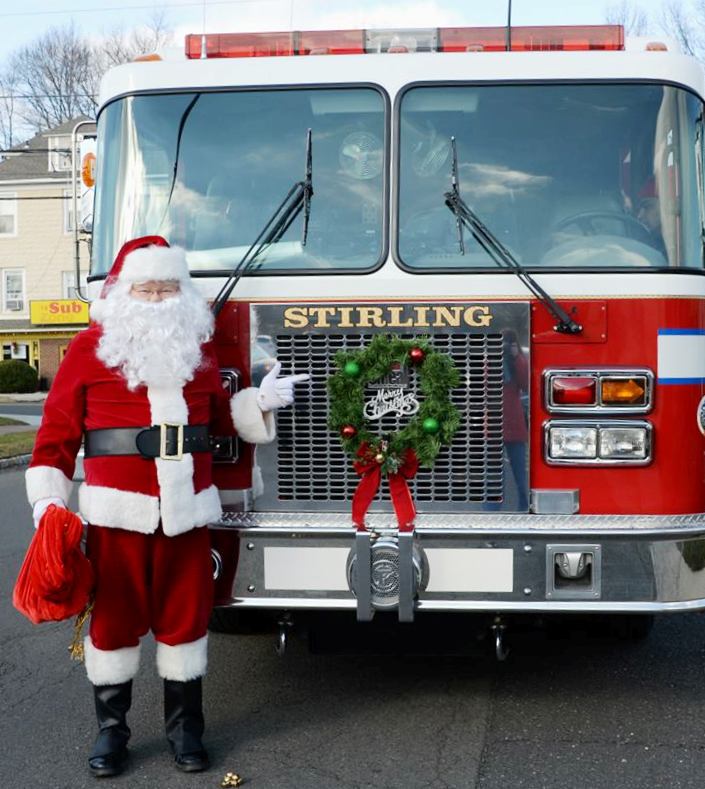 Santa Can Visit Your Home
Santa Claus can visit your home on a real fire engine and deliver a special present to your child(ren) on Saturday, December 14, 2019 making an unforgettable and treasured memory for your child and everyone in your family.
This is an annual fund raiser for the Stirling Volunteer Fire Dept. and supports them in paying for training, equipment, etc. A $40 per household donation is required and you must drop off your wrapped gift at the Stirling Firehouse (321 Somerset St., Stirling) on Dec. 12 or 13 between 5 p.m. and 8 p.m. Your $40 donation is requested when you drop off your gift. Please make your check payable to the Stirling Vol. Fire Co.
Upon arrival at your home Santa will visit with your child(ren) and you may take as many photos with Santa as you wish, and get one with the whole family and Santa.  He'll also be accompanied by firefighter Santa's elves, which will make this an event that your child(ren) and your family will cherish for years. Children love Santa and they love fire engines so what can be better than having Santa arrive on a real fire engine to visit you?
To sign-up for Santa's exciting personal visit or get additional details, please email Firefighter Santa at  stirlingfirecompany@gmail.com and leave your name and phone number. A firefighter Santa's helper will return your email with additional information on how to make this Christmas one of the most memorable ever.
Check our Events Calendar for More Local Events