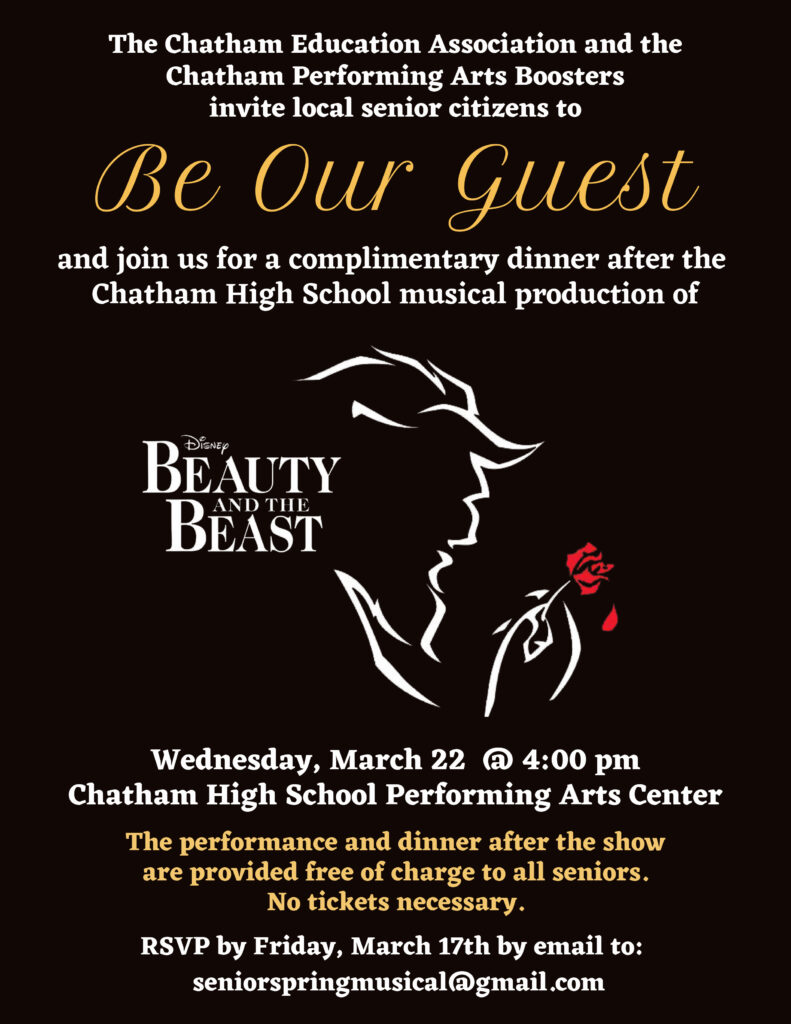 Seniors invited to CHS Musical "Beauty and the Beast"
Chatham Performing Arts Boosters
Local senior citizens are invited to attend the Chatham High School spring musical Beauty and the Beast, free of charge, followed by a sit-down dinner and cast Meet and Greet on Wednesday, March 22nd at 4:00 p.m. 
Seniors will not need a ticket to attend the show on Wednesday.
An RSVP is required for the complimentary dinner, which is sponsored by the Chatham Education Association (CEA) and the Chatham Performing Arts Boosters (CPAB).
Please RSVP for the dinner by Friday, March 17 toseniorspringmusical@gmail.com.
The dinner will immediately follow the show.
The production will take place at the CHS Performing Arts Center located at 255 Lafayette Avenue. There is free parking available in the high school lot and a few disability parking spots are located in the circle across from the auditorium doors.
The musical, based on the beloved animated movie, Beauty & the Beast, follows book-smart Belle as she tries to save her father and becomes a prisoner in the castle of the prince-turned-beast. With the help of the castle's enchanted staff, Belle learns to look past the beast's frightening appearance and discovers that true beauty comes from within.