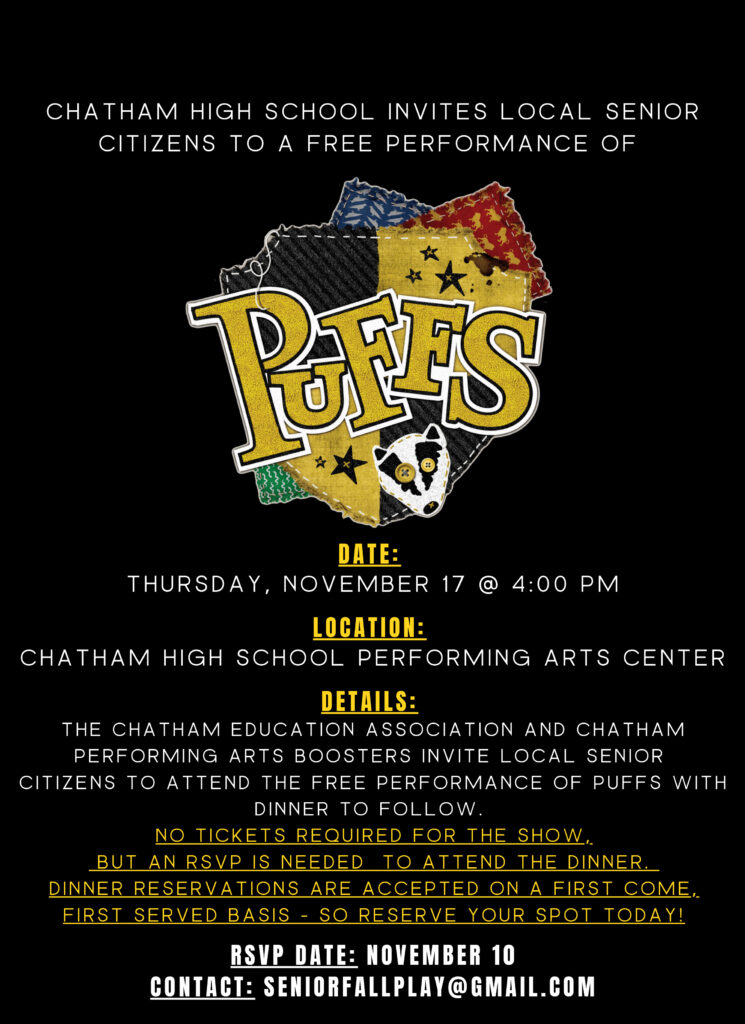 Senior Citizens Invited to Attend CHS Fall Play Puffs
CHATHAM, NJ — Chatham High School would like to invite our local senior citizens to attend our production of Puffs, or Seven Increasingly Eventful Years at a Certain School of Magic and Magic, free of charge. And this year, after a hiatus due to Covid, our sit-down dinner and cast Meet and Greet is back.
Seniors are invited to attend the performance on Thursday, November 17th at 4:00 p.m. and will not need a ticket to attend the show. An RSVP is required for the complimentary dinner, which is sponsored by the Chatham Education Association (CEA) and the Chatham Performing Arts Boosters (CPAB).
Please RSVP for the dinner by Monday, November 14th to seniorfallplay@gmail.com
The dinner will immediately follow the show, which has a running time of 2 hours 15 minutes.
The production will take place at the CHS Performing Arts Center located at 255 Lafayette Avenue. There is free parking available in the high school lot and a few disability parking spots are located in the circle across from the auditorium doors.
No masks or proof of vaccination are necessary. The performers will be unmasked.
Puffs gives the audience a front row seat to the sidelines of the world's most famous magical journey. Follow Wayne and his outcast friends as they discover that there is a hero in all of us–even the underdog.