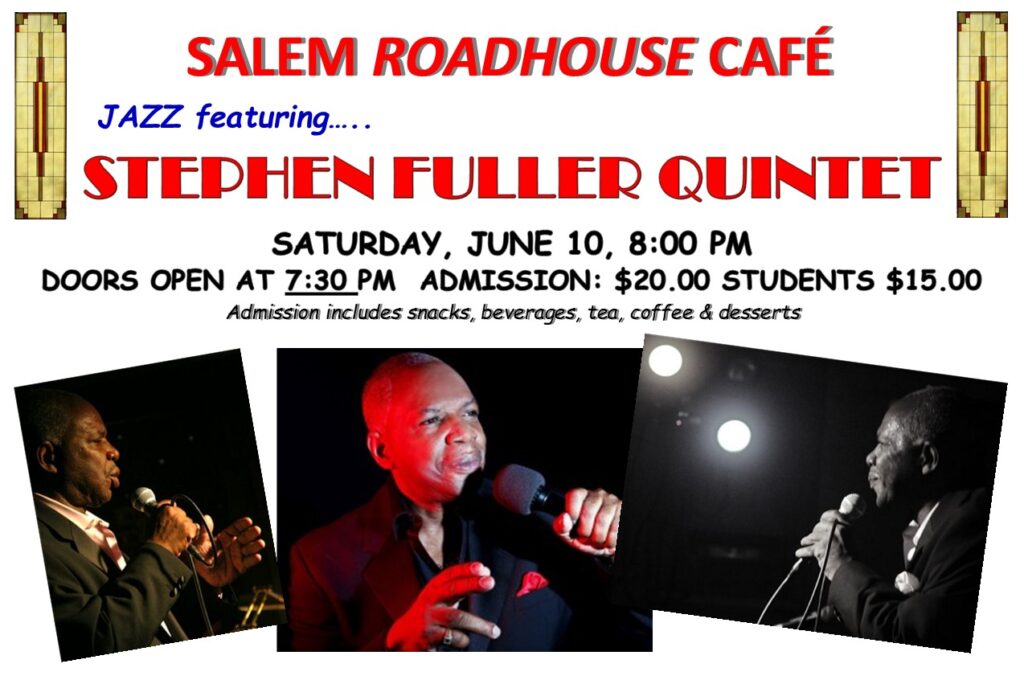 Salem Roadhouse Café June Show 
The Salem Roadhouse Café presents the Stephen Fuller Quintet, Saturday, June 10, 2023. The doors open at 7:15 p.m., the show starts at 8 p.m. Admission is $20 and includes show, snacks, non-alcoholic beverages, and dessert. The venue is located in the basement of Townley Presbyterian Church, 829 Salem Rd, Union, NJ. The Roadhouse operates as a non-profit that raises funds for several carefully chosen local charities.
Stephen Fuller's deep rich voice and soulful renditions have long made him a favorite with sophisticated audiences around the world, performing in Israel, Jamaica, Costa Rica and The US Virgin Islands. In addition to his overseas engagements, Fuller has also performed in renowned New York City and New Jersey venues and has opened for both Stevie Wonder and Bill Withers while attending Colgate University.

Stephen will perform at the Roadhouse with his quintet. Last year he did a total calypso show which got the audience totally involved and thrilled. Stephen has always been top notch entertainment. This show he's working on some special treats for us.
As always, the Salem Roadhouse Café is live, intimate, up front, and personal. All ages are welcome.
About Salem Roadhouse Café
It's not "church music." It's music music. Folks who've come to the Salem Roadhouse Café know that it's a clean, safe place for people who enjoy listening to live music — in a world otherwise filled with clubs and bars. The Roadhouse has always offered its stage to local and independent mainstream musicians. Jazz, rock, folk, and other groups have performed. What's the common thread? They're all great musicians playing the kind of music people like to hear. There's no message, just music.
The Roadhouse started in 2008 by members of Townley Presbyterian Church with a grant from the Presbytery of Elizabeth. Hey — that's why we're located where we are, 829 Salem Rd, Union, NJ. The Roadhouse operates as a non-profit that raises funds for several carefully chosen local charities. That's its social mission.
But the many musicians who've played the Salem Roadhouse Café see it as a solid performance venue. They love it because of its special intimacy and great audiences. They say people here "really listen." Ask any of the musicians you meet here — they love to play the Roadhouse, and they want to come back often.
The Salem Roadhouse Café has raised funds for many carefully chosen charities. They include: The Presbytery of Elizabeth E-port Center, Center For Hope Hospice, Community Food Bank, Monarch Housing, Angel Paws Animal Rescue, National MS Society, Haiti Disaster Relief, Hurricane Sandy Disaster Relief, The Union County YWCA Domestic Violence Program, Making It Possible To End Homelessness, Camp Johnsonburg, The Music Institute, and others. Many thousands of dollars have been raised for these deserving charities.