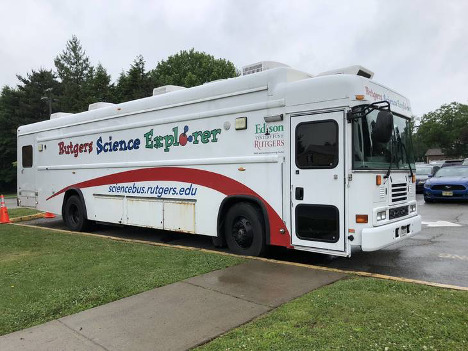 The Rutgers Science Explorer Bus Goes Virtual
Submitted by Christine Casale Broski
Each year, seventh grade students from Carl H. Kumpf Middle School have the opportunity to participate in a real-life STEM activity in cooperation with Rutgers University. The "Science Bus" usually comes to the Kumpf School each spring and students participate in a hands-on activity with graduate student fellows from Rutgers University. This year with the COVID-19 restrictions, the bus could not visit the school.
However, Rutgers University RSE Senior Program Coordinator, Dr. Patricia Irizarry and Program Assistant, Emmanuel Serrano-Perez, were able to create a virtual learning STEM activity for the middle school students. The activity was presented to the students by the graduate student fellows through a "Zoom" link during their individual class periods. Both remote and in-person students were able to participate in the program.
Kumpf Science teachers, Danielle Bihuniak and Ann Marie Lambertti coordinated the Zoom sessions with the Rutgers Fellows and the Kumpf students. The program presented focused on Stem Cellular Explorations and Genetics. The students were able to see how the information they have learned in class can be applied to real life scenarios and how cells work together in our bodies. Students were able to ask questions to the Rutgers graduate students in real time. The classes also were given a follow-up board game on the main concepts of the day's lesson to help reinforce what they learned.
According to Mr. Rick Delmonaco, the principal of Kumpf School, "Each year, the Kumpf students look forward to the Rutgers Science Bus visit. We were so grateful that Professor Irizarry and Mr. Serrano-Perez were able to adapt and come up with such a worthwhile experience for our students."
For more information on the Rutgers Science Explorer program, go to sciencebus.rutgers.edu
Photo by Clark Public Schools