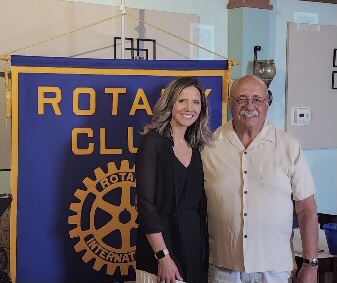 Rotary Hears About Imagine
Submitted by Dr. D. Michael Hart
Executive Director Lindsay Schambach spoke to the Rotary Club of Westfield about Imagine, which offers grief counseling support for children and families. Lindsay had lost her young husband in 2018 when they had a 4-year-old son and a newborn child. She found the program to be tremendously helpful to both her and her children.
Lindsay worked as a teacher and later as a school principal at a charter school in Newark. After spending several years at Imagine, they asked her to be director. Accompanying Lindsay to the meeting were Keith Hertel, one of the founding directors, and Angela Tayco, Communications and Development manager.
Imagine is currently located at 244 Sheffield St, Mountainside. They get about 12 phone calls per day and have 3 social workers on staff. They started in Westfield in 2012, and are celebrating their 10 year anniversary with a Gala on November 2, 2022 at The Palace in Somerset, NJ. For information check the website imaginenj.org/gala
Imagine likes to set up Community partnerships, and have been working with Greta's Run in Westfield to commemorate the passing of Greta Schoenemann. They also provide counseling for trauma from Covid or school shootings, etc. 60% of their funding comes from private donors, with the remainder coming from grants.
The Rotary Club of Westfield meets the first three Tuesdays of each month for lunch at Limani Seafood Grill on North Ave at noon. Guests are always welcome. For information check out the website westfieldrotary.com or contact club secretary Michael Hart by email at drmhart@yahoo.com