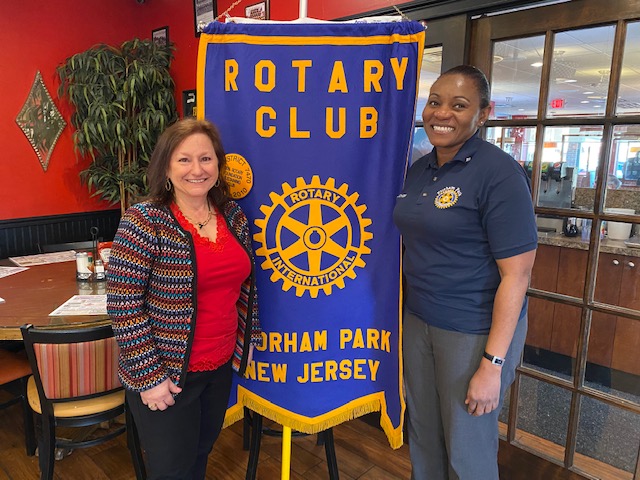 Rotarians receive presentation by nourish.nj
The Florham Park Rotary was pleased to learn about all the wonderful things nourish.NJ does for Morris County residents when they recently received a presentation during a meeting.
Nancy Rudgers, Director of Development at nourish.NJ, shared that the Mission is to create lasting solutions to the problems of hunger, homelessness and poverty. "We offer food, housing, work readiness, medical, social and educational services 365 days a year in a warm, safe and caring environment, free of charge, no questions asked."
The Non-Profit organization has worked for about 40 years to create lasting solutions. They began their mission serving chicken noodle soup and peanut butter and jelly sandwiches to guests in the mid-1980s. They have expanded their offerings since then to include a variety of dynamic relief services and programs.
As the name of the nonprofit organization would imply, food is the starting point of engagement for many who engage in their community outreach services. Details of where and when people may seek free take-out meals and free Farmers Markets and assistance can be found on norishnj.org, or call the Outreach Center Phone Number: 973-294-8576.
More community outreach services beyond hunger include housing, medical, mental, and employment.
The Florham Park Rotary will now explore ways in which the Club can help. Individual citizens in Morris County are also encouraged to check thenourish.nj.org website for ways in which they may pitch in – as there are both on-site and off-site volunteer opportunities to help:
Minimum age is 16 to volunteer and all On-site volunteers must be fully vaccinated (including a booster).
Off-site opportunities include: Pack and donate purple "Apron Meal Kits" providing four healthy, easy to prepare meals with new recipes designed by a nutrition counselor every season. Pack and donate "Purposeful Acts of Kindness" containing every-day essential items to promote guests' health, wellness, and cleanliness. Pack and donate and "Rise and Shine Breakfast" kits provides local children with a nutritious breakfast
About Nourish.NJ
A 501(c)(3) nonprofit organization in 2021, nourish.NJ responded to the needs of Morris County residents in meaningful and transformative ways. Examples included: Provided more than 76,440 nutritious meals to anyone who needed them; Provided more than 200,000 lbs of fruit, vegetables, meat, dairy, eggs and other fresh food for guests to take home from our Free Farmers Markets; Provided more than 750 hours of direct case management assistance to clients, including 200 hours of housing assistance for emergency housing and eviction prevention and 100 hours of employment assistance; and much more.
About Rotary
The Florham Park Rotary Club is one of 35,000 worldwide. Each Rotary Club is an organization of local business and professional leaders, and other caring neighbors and citizens driven by the need for humanitarian assistance. Rotary International is a non-political and nonsectarian organization open to all people regardless of race, color, creed, religion, gender, or political preference. It is dedicated to encourage high ethical standards in all vocations, and to advance goodwill and peace around the world.
Guests are always welcome to join a weekly Florham Park Rotary breakfast meeting at the Florham Park Diner at 182 Ridgedale Ave. Those meetings are also held via Zoom to provide the option for members who can't physically attend frequently in the Diner. Meetings are 7:47 a.m. to 9 a.m. every Friday. For more information visitFlorhamParkRotary.com, or call or write Membership Chair George Gregor atggregor@florhamparkrotary.com or (917) 848-0982.