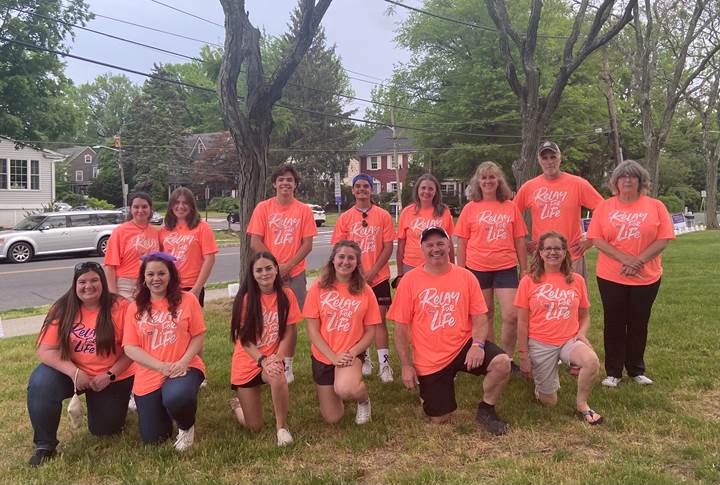 Relay For Life of Cranford
Submitted by Linda Miklencic
Relay For Life of Cranford's 14th annual event took place on May 22 at Cranford High School.
The event raised over $74,000 to help the American Cancer Society save lives through groundbreaking cancer research, education and risk reduction efforts, and free information and critical services for people with cancer who need them.
Due to Covid-19 restrictions, the planning committee had to get creative this year. They wanted to highlight the survivors and luminaria ceremony since they are the two most important parts of our event. The committee hosted a survivor luncheon at CHS which was attended by 30 local survivors. The food was generously donated by Flag of Cranford, Delice Macarons, Barbara Zeckman Realty, and Lisa Papa, and the beautiful flowers were donated by Dreyer's Farm.
In the evening, the luminaria bags, decorated in memory or honor of loved ones, were displayed at the high school and participants were able to drive around the school and spend a quiet moment.
"Although the event was different this year, the committee hopes that by focusing on the survivor luncheon and the luminaria pathway, we were able to have an impact worthy of the Cranford Relay," said long-time committee member Paul Skelton.
The following three teams are recognized for their extraordinary fundraising efforts: Team Angela raised $19,176, Union County Daughters of Ireland raised $11,400, and Bosom Buddies raised $9,631.
Thank you to our Signature Level sponsors: Social Edge Consulting, Horizon BC/BS, and the Cranford Jaycees. Thank you to our generous local businesses for gift card donations: Vinny's Pizza, Hickory & Hill, Track 5, The Mane Event, Rustic Mill Diner, Urban Burger, Chez Gelato, Ambeli, Fettle + Fare, Breadsmith, CDC, Think D'sign, Cake Artist Café, Marino's Restaurant, Weaver Printing, Downtown Cranford, and Cougar Headquarters. Many other businesses posted signs and hosted fundraisers over the past six months.
"Relay For Life is an amazing event that honors those lost to cancer and uplifts and supports those who are currently facing the battle. I am honored to have been a part of this event for the last 7 years. This year's luminaria drive-thru was beautiful and heartfelt. Our schools and community once again have come together to support one another," said committee member Christine Newport
The committee would like to thank the Superintendent of Cranford Schools, Dr. Scott Rubin and the Board of Education, TV35, the Township Committee, Downtown Cranford, and the Cranford Police and Fire departments for their continued support.
"Relay for Life is a wonderful event and I've enjoyed being a part of it for the past 10 years. I've met so many wonderful people, people who are hurting and people who want to help," said Linda Miklencic, Event Lead.
The Relay For Life movement unites more than 4 million participants across the globe to celebrate people who have battled cancer, remember loved ones lost, and take action to finish the fight once and for all. The Cranford Relay For Life event is a community gathering where teams and individuals camp out at Orange Avenue School or Hillside Avenue School and take turns walking or running around a track for twelve hours. Teams raise funds in the months leading up to the event. Cancer survivors are the celebrities of the event and walk the first lap to officially start the Relay.
Our ACS fundraising will continue with our Upcoming Tricky Tray Event. Details to follow.
Donations can still be made by visiting relayforlife.org/cranfordnj. Follow our Facebook group: Relay for Life of Cranford.
About the American Cancer Society
At the American Cancer Society, we're on a mission to free the world from cancer. We're finding cures as the nation's largest private, not-for-profit investor in cancer research, ensuring people facing cancer have the help they need and continuing the fight for access to quality health care, lifesaving screenings, clean air, and more.
For more information, to get help, or to join the fight, call us anytime, day or night, at
1-800-227-2345 or visit cancer.org.