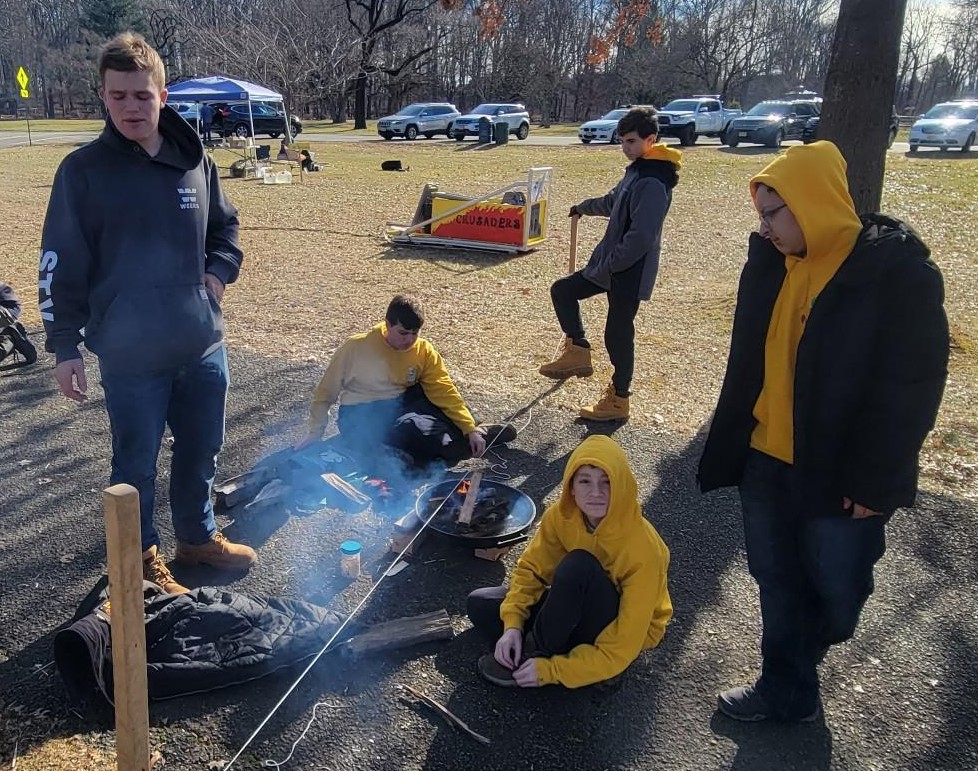 Red Eye Crow Patrol takes Gold 
Boy Scout Troop 23
Many years ago, men raced by means of dogs and sledges across the frozen wastes of Alaska in search of gold. The Scouts BSA program capitalized on this theme and developed the Klondike Derby as an exciting annual event. Scouts pull a sled full of equipment over a field course in the Watchung Reservation to simulated towns, where the Scouts are challenged to solve problems using Scouting skills, such as firebuilding, first aid, and orienteering.
On January 28, the Red Eye Crow Patrol of Boy Scout Troop 23, sponsored by St. Genevieve's Church of Elizabeth, competed against 48 other sled teams in the Pioneer District Klondike Derby. Under the direction of Patrol Leader Antonios Skamangas, the Scouts earned 82 gold nuggets by solving 7 problems. Their total gold nugget score put them in the top 20% among all competitors. 
Boy Scout Troop 23 welcomes any boys who are at least 11 years old or graduated from the fifth grade to join them on upcoming camping trips and hikes, a 4-day trip on Memorial Day weekend, and a week-long summer camp in July. Contact Scoutmaster Dan Bernier at 908-451-1948 or webfoottroop@gmail.com for more details.