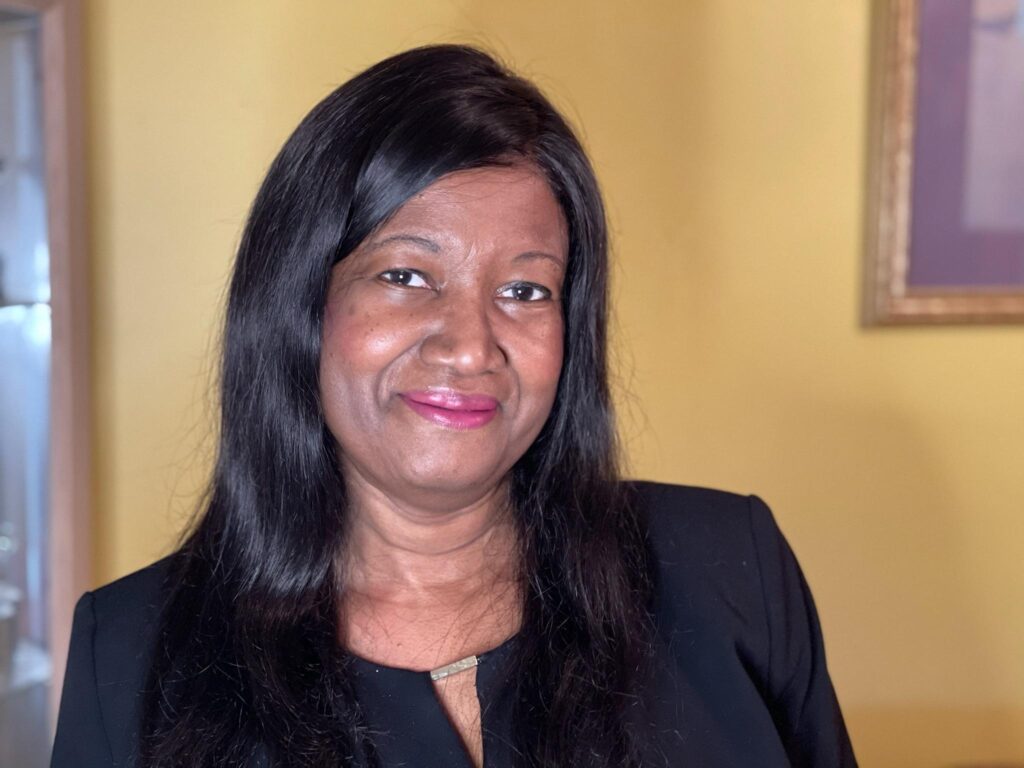 Rahway FFF Spotlight on Audrey Burnett-Young
Submitted by Can Ashe
Rahway Food For Friends (FFF) would like to spotlight women in our community making history. This month they are highlighting volunteer Audrey Burnett-Young.
Audrey Burnett-Young is originally from Queens, New York and currently lives in Rahway, New Jersey. She is the proud mother of two adult children, Lauren and Erica Young. She currently works in NY for a Wall Street based Investment Banking firm where she has over 25 years tenure. Audrey is passionate about volunteerism. She was introduced to FFF, a nonprofit 503(c) organization in Rahway, NJ that feeds the hungry in Rahway and the surrounding communities, by the City of Rahway where she was employed for over 4 years. Audrey has a long history of volunteerism which started over 20 years ago through her current job. For many years, she would sign herself and her daughters up for various community teamwork projects including: Habitat for Humanity, Jewish Center for the Aging, Bark Animal Shelter, as well as a Women's Shelter in NY for those recovering from domestic violence. Seeing the distress of these mothers further sparked her interest in helping those in need.
Audrey is passionate about her works with FFF, a lot of which are behind the scenes. Through generous donations, Rahway FFF is currently feeding 647 families with food insecurities via mobile pantry and food pantry programs. They also provided 300 families with Thanksgiving holiday meals and supplied over 200 new toys this past Christmas to children who might have otherwise not had any.
Audrey is a member of the African Methodist Episcopal Church (AME). She served as Vice President of the Elizabeth Area Woman's Missionary Society which consists of 9 area AME churches. She was also the recipient of the 2017 Women's Missionary Society Diamond Award. Audrey has held several officer positions and served as the President of the Deborah Missionary Society of Ebenezer AME Church.
While serving as Vice President of the Elizabeth Area Woman's Missionary Society, Audrey introduced FFF as a community service project. All 9 of the area AME churches graciously accepted and have been providing much appreciated ongoing support, volunteerism, and donations to the FFF food pantry and soup kitchen.
Through the AME Church, Audrey signed up for a project where she and other missionaries travelled to an undisclosed location to give out handbags filled with toiletries to victims of Human Trafficking. Through this experience, Audrey has been interested in helping victims of Human Trafficking. She is also passionate about helping to create awareness about mental illness and providing resources.
Audrey is a longtime member of the NAACP where she served on the executive committee. She was also the Banquet Chair. Audrey was presented with the NAACP Rahway Branch President's award in 2014 by former Rahway branch President the late Shirley J. Palmer. In 2018 she was presented an appreciation honor from the Rahway branch's former President Ronald McCray.
She is also a supporter of the NJ Association of Black Educators (NJABE) and contributes to the NJ Association of Black Psychologists (NJABPsi) as well as The Innocence Project.
Audrey is currently a member of Church Women United (CWU), an organized national movement established in 1941 that brings Christian women together in a visible community to witness their faith in Jesus Christ. Enabled by the Holy Spirit, members go out into every community and nation as instruments of reconciling love. She serves as recording secretary for the CWU Cranford Unit.
Audrey has a heart for missions and helping people and has been known to carry food and water in her car in case she encounters someone in need. While she has received numerous recognitions, she is humbled to be recognized in this Women's History Award. Her mantra is "If I can help somebody as I pass along. If I can cheer somebody, with a word or song. If I can show somebody that he is travelling wrong, then my living shall not be in vain." One of her favorite scriptures is: Philippians 4:13 "I can do all things through Christ who strengthens me."