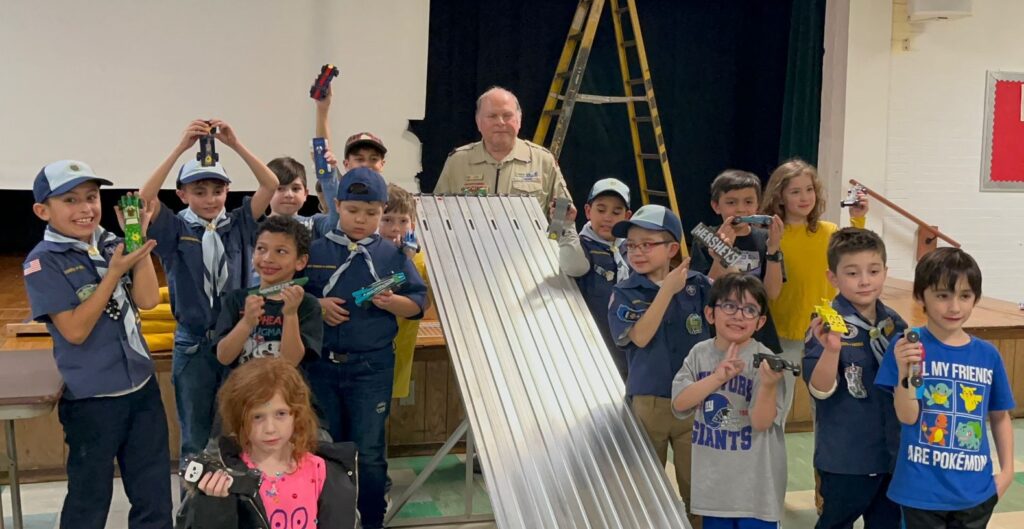 Pack 23 annual Pinewood Derby Results
Cub Scout Pack 23
Cub Scout Pack 23 held its annual Pinewood Derby at St. Genevieve's Church on February 10. Working with a parent, each Scout shaped a block of wood into a race car, painted and decorated it, and then competed with it against other Cubs on a 30-foot long 6-lane track. There was a lot of excitement and enthusiasm among the Cub Scouts who participated!
The overall winners for the Pack were as follows:
1st place – Anthony Maiorana
2nd place – Noah Bustamante
3rd place (tie) – Gabriel Chaban & Christian Skamangas
The Best Design award, as chosen by his fellow Cub Scouts, went to Nicolas Akay. Congratulations to all!
If you know a child who is anywhere between a Kindergartener and a high school senior, please encourage them to get in on the fun of Scouting. The Scouting program instills character, good citizenship and physical fitness in youth through outdoor activities such as campouts and hikes, involvement in community activities, and just plain FUN!
Cub Scout Pack 23 provides activities and training for boys and girls in Kindergarten through fifth grades. Boy Scout Troop 23 is for boys who are at least 11 years old or graduated from the fifth grade. New members are welcome at any time, all year round. For more details, please contact Dan Bernier, Scoutmaster, at (908) 451-1948 orwebfoottroop@gmail.com.