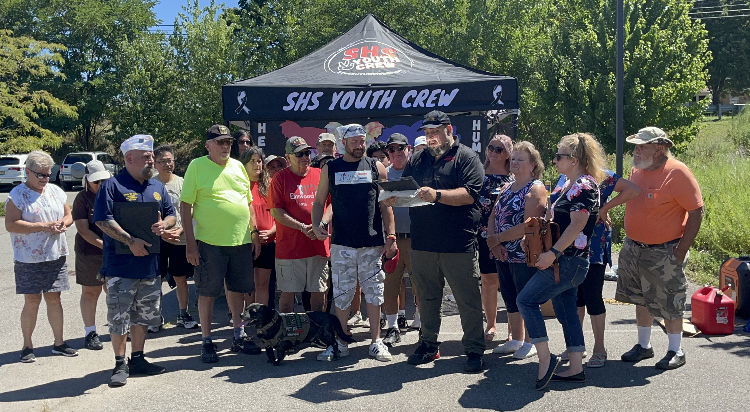 NJVN Awards Strangers Helping Strangers
The New Jersey Veterans Network
The New Jersey Veterans Network (NJVN) works with many different organizations to bring food, groceries, and clothes to veteran families in need. One organization they've worked with is Strangers Helping Strangers (SHS). They've provided over 100 meals for veterans and their families while pairing up with the NJVN over multiple projects. SHS itself distributes 20,000 pounds of food in Elmwood Park, NJ.
On Friday, August 12, 2022, Doc Schupp, Director of Veterans Outreach for NJVN, and Dennis Duddie, American Legion Department Vice Commander, presented the Strangers Helping Strangers team with four awards, including a Hero Award for team President Chris Braitsch, a Certificate of Commendation, as well as the Community Service Award, recognizing their continuous support for Veterans and their families. Strangers Helping Strangers was also presented with the Certificate of Appreciation from The Department of NJ State VFW and an NJVN Community Service award.
When asked about the assistance that SHS has provided for the Veteran Community, Doc Schupp said, "This team (SHS) has provided for our State's heroes time and time again, we are blessed to have them as partners."
Strangers Helping Strangers was created during the COVID-19 crisis, and has continued to work with the New Jersey Veterans Network to provide for our veterans. They work closely to provide not only goods for those in need, but they also give hope in times of crisis. While SHS provides the food and groceries, the NJVN distributes them directly to the veterans homes. It's a wonderful system that has helped improve the lives of so many veterans and their families.
Courtesy photo