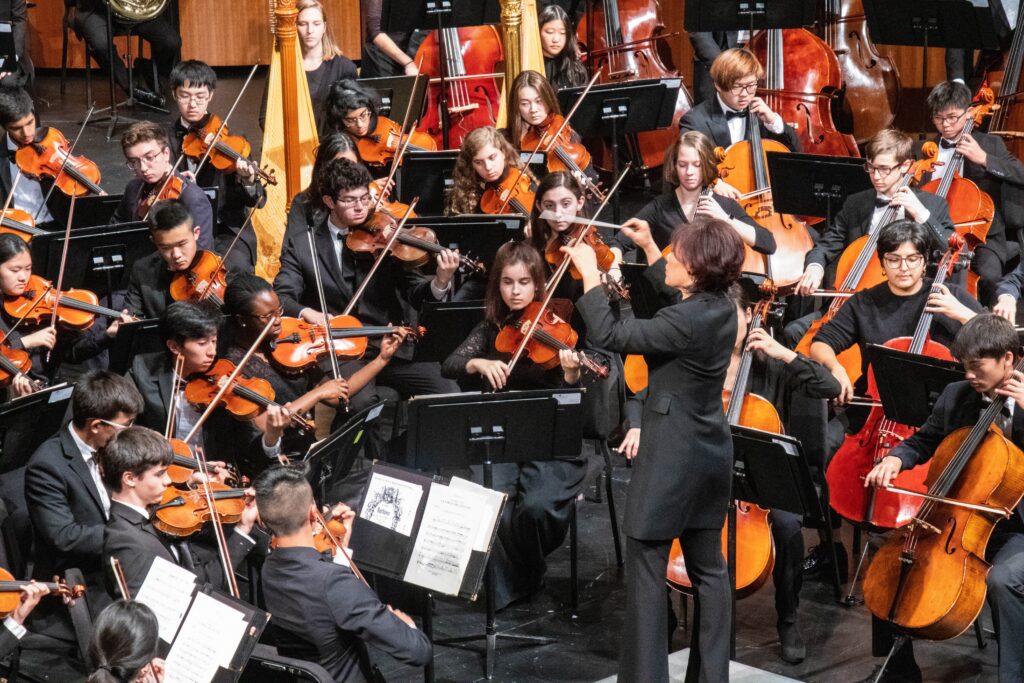 New Jersey Youth Symphony Receives Grant
Submitted by Alice Hamlet
The New Jersey Youth Symphony, a program of the Wharton Institute for the Performing Arts, is one of eighteen orchestras and youth orchestras to receive grants of $30,000 each to spark a culture of innovation and learning in U.S. orchestras. Created by the League of American Orchestras to support a variety of forward-thinking and experimental projects, the two-year American Orchestras' Futures Fund grants, made possible by the generous support of the Ann and Gordon Getty Foundation, focus on artistic vibrancy, civic engagement, and organizational vitality.
"The Futures Fund represents an important part of the incentive and fuel to support orchestras as they pivot and adapt to a dramatically changed environment," said Jesse Rosen, the League's President and CEO. "We are grateful to the Ann and Gordon Getty Foundation for their continued ongoing support and flexibility during this time when it is so urgently needed."
"The Foundation is pleased to fund these projects that contribute to the long-term sustainability of the art form," said Lisa Delan, Director of the Ann and Gordon Getty Foundation. "Our support of the League—indeed, the unity of the field itself—is critical as we search for ways not only to endure but to emerge stronger than ever. We are at a crossroads and our only way forward is arm in arm."
Said Wharton Institute for the Performing Arts Artistic Director Helen H. Cha-Pyo, "Technology has become a vital part of the way we create, produce, and share music. The New Jersey Youth Symphony's experimental collaboration with Nokia Bell Labs is especially exciting at this moment in time as we train tomorrow's performers, composers, and listeners."
"We are extremely honored and grateful for the League of American Orchestras and the Ann and Gordon Getty Foundation's continued support of the New Jersey Youth Symphony," said Peter H. Gistelinck, Executive Director of the Wharton Institute for the Performing Arts. "This two-year grant will allow our Artistic Director and NJYS Principal Conductor, Helen H. Cha-Pyo, to continue to elaborate on our mission and vision through a series of innovative artistic projects."
The New Jersey Youth Symphony (NJYS) will partner with Nokia Bell Labs to use C4C, a technology that turns audiences' phones into speakers, enabling the audience to become part of the performance. The performers can activate sounds throughout the audience in synchrony with the main performance. Three to five new chamber ensemble works will be commissioned with flexible instrumentation to be performed in May 2021 using C4C technology. A core group of NJYS students will work directly with the engineers at Nokia Bell Labs.
This is the fourth round of the League's $6 million Futures Fund program; previous grants were announced in 2017, 2018, and 2019. Smaller-budget U.S.-based orchestras and youth orchestras that are members of the League were eligible to apply in this round. An independent review panel selected the orchestras based on criteria including evidence of organizational readiness and the project's potential for long-term impact. Each proposal was required to address at least one of three categories: Artistic Vibrancy (e.g., innovative approaches to performance and programming); Organizational Vitality (e.g., work addressing new organizational models that explore alternatives to traditional operating models and leadership structures and which redefine relationships among organizational stakeholders); and Civic Engagement (e.g., programs on or off the stage that are responsive to and reflective of their communities and the key issues the communities face). In order to facilitate field-wide learning, grant applicants were encouraged to focus on ways their orchestras could develop, share, and document new ways of working both locally and across the field.
Reflecting the potential of new ways of thinking and flexibility during this time of tremendous challenge and uncertainty, the funded programs' areas of focus vary greatly. The League—with the encouragement and approval of the Ann and Gordon Getty Foundation—offered grantees flexible alternative options for using their Futures Fund grant. Projects include a travelling music float in Kentucky permitting residents to social-distance while enjoying music from their front lawns; an alternative medical program in Georgia utilizing mindfulness-based music therapy; a commissioning program for composers of color in Maryland aiming to diversify the pool of composers who write for youth orchestras; an intensive after-school music and social program for students in communities in El Paso, near the Texas-Mexico border; and a New Jersey partnership with Nokia Bell Labs creating new chamber music works using C4C technology to turn audiences' phones into speakers at live concerts. All the initiatives demonstrate the innovative measures orchestras are taking to grow their audiences and increase their relevance during the pandemic.
The New Jersey Youth Symphony, founded in 1979, is a tiered orchestral program offering ensemble education for students in grades 3-12 across New Jersey. NJYS has grown from one orchestra of 65 students to over 500 students in 15 different orchestras and ensembles, including the internationally recognized Youth Symphony. NJYS ensembles have performed in venues including the New Jersey Performing Arts Center, Carnegie Hall, and the John F. Kennedy Center for the Performing Arts. NJYS has received numerous prestigious awards for its adventurous programming from the American Society of Composers, Authors, and Publishers (ASCAP) and has had six European tours, including participation in the Summa Cum Laude International Youth Festival and Competition (Vienna), winning First Prizes in July 2014 and 2017.
Now in its 42nd season, NJYS continues to achieve musical excellence through intensive instruction and high-level performance. Under the guidance of a talented team of conductors, coaches, and teaching artists, students are immersed in challenging repertoire, learning the art of ensemble playing, and exploring their potential in a supportive and inclusive environment. NJYS remains committed to programming works by diverse composers and featured 20th century African American and women composers such as Duke Ellington, George Walker, Yvonne Desportes, Emma Lou Diemer, Julia Perry, and Florence Price this past season.
The New Jersey Youth Symphony is a program of the Wharton Institute for the Performing Arts. Wharton is New Jersey's largest non-profit performing arts education organization serving over 1,500 students of all ages and abilities through a range of classes and ensembles. In addition to the New Jersey Youth Symphony, programs include the Paterson Music Project and the Performing Arts School.
The League of American Orchestras leads, supports, and champions America's orchestras and the vitality of the music they perform. Its diverse membership of more than 1,700 organizations and individuals across North America runs the gamut from world-renowned orchestras to community groups, from summer festivals to student and youth ensembles, from conservatories to libraries, from businesses serving orchestras to individuals who love symphonic music. The only national organization dedicated solely to the orchestral experience, the League is a nexus of knowledge and innovation, advocacy, and leadership advancement. Its conferences and events, award-winning Symphony magazine, website, and other publications inform people around the world about orchestral activity and developments. Founded in 1942 and chartered by Congress in 1962, the League links a national network of thousands of instrumentalists, conductors, managers and administrators, board members, volunteers, and business partners. Visit americanorchestras.org.