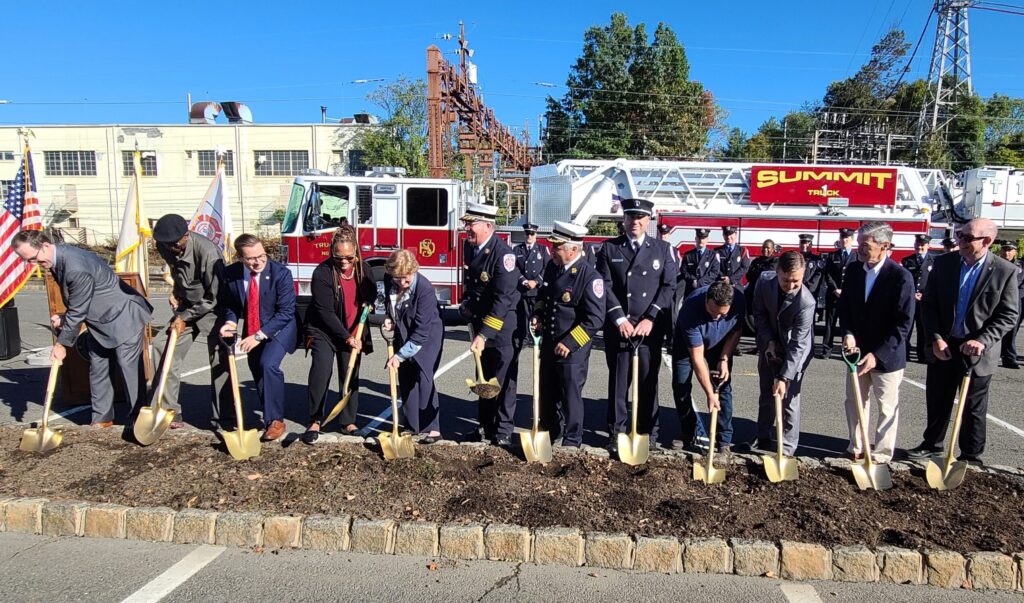 Ground Broken for New Fire Headquarters 
City of Summit
On Thursday, October 28 at 10 a.m., Summit Fire Department officially broke ground on its new fire headquarters at 301 Broad St. in Summit. The 32,000 sq. ft. building is expected to take  approximately 18 months to complete and will include eight equipment bays, training classrooms and streetscape simulation areas, decontamination zones, Emergency Operations Center, and a history room. 
"The breaking of ground for a new fire headquarters is a significant moment in the history of the Summit Fire Department," said Summit Mayor Nora Radest. "They are not just physically moving to a new location a few blocks away on Broad Street. The Summit Fire Department is moving forward. The new building will enable them to expand resources and educational opportunities, ensuring the department is stronger and better prepared as we move into the future."
Research for the project began in 2012 and a final concept for a new fire headquarters was approved by Summit Common Council in 2019. It was designed by architects LeMay, Erickson, and Wilcox. Construction will be completed by Brahma Construction.
"We went through an extremely in-depth value-engineering process during concept development to ensure taxpayers' dollars were spent wisely and designs stayed within budget," explained Fire Chief Eric Evers. "Our new fire headquarters will be constructed with many features that are essential in a modern-day fire station. Today, fires burn hotter, faster and are more dangerous than ever. Having the ability to train on site with training props incorporated into the building design, will give our firefighters the flexibility to pursue training activities that are geared towards successfully handling and surviving those challenges."
Evers continued: "As we move forward with the construction phase of this project, we look forward to working with key stakeholders from around the city. To complete the project, we will need the support of the entire Summit community, residents, and businesses alike."
For more information on the Summit Fire Department, visit cityofsummit.org.
Photos by City of Summit