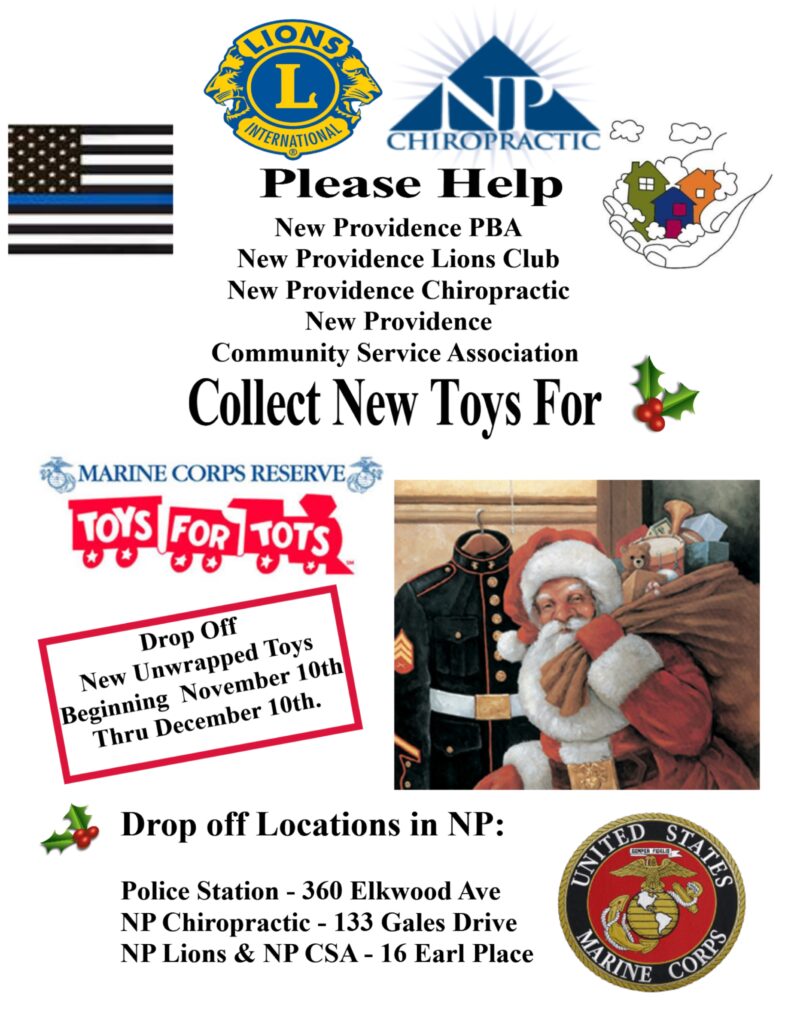 Annual "Toys For Tots" Drive
The New Providence Police Benevolent Association is collecting new, unwrapped toys for the Marine Corps Reserves through December 10th. "We are looking forward to bringing smiles to the faces of those children who are less fortunate" commented Sergeant Sretenovic.
This year the New Providence Lions Club, New Providence Chiropractic and the Community Service Association of New Providence will be helping the PBA with the collection of toys.
Drop off Locations:
PBA – NP Police Station, 360 Elkwood Avenue
New Providence Chiropractic – 133 Gales Drive
NP Lions Club and Community Service Association – Bring toys to meetings or drop off in bin at 16 Earl Place.
Toys For Tots began in 1947, when Major Bill Hendricks USMCR (Ret) and a group of Marine reservists in Los Angeles, California collected and distributed 5,000 toys to needy children. At that time there was no agency or organization in existence to help the reservists distribute the toys.
The Toys For Tots pilot project was so successful that the Marine Corps adopted Toys For Tots in 1948 and expanded it into a nationwide campaign. The initial object that remains the hallmark of the program today is to "bring the joy of Christmas to America's needy children." The Marines' goal is to deliver a message of hope with new toys rather than used toys which will assist in building self-esteem and in turn, motivate less fortunate children to grow into responsible, productive, patriotic citizens and community leaders. A shiny new toy is the best means of accomplishing this goal.
Toys For Tots is an IRS 501(c) (3) not-for-profit public charity which was created at the behest of the U.S. Marine Corps.