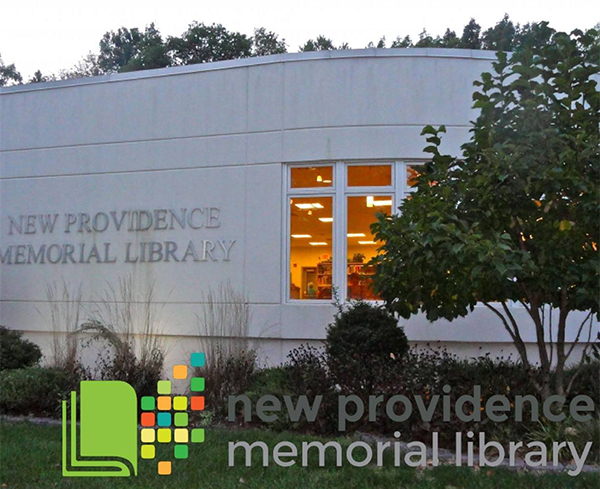 New Providence Library October 2022
Math Club (Teens)
Starting October 2, Sundays 3:15-4:15p.m.
Join the NP Math Club and hone your problem-solving skills while meeting with other math enthusiasts. There will also be opportunities to join math competitions. Run by NP Teens, open to students in 6-12th grades.
NP Chess Club (Kids, Teens & Adults)
starting September 19, October 10, 17, 24 at 5:30-7:30 p.m.
Learn to play chess from the NP Chess Club! Weekly play every Monday night from 5:30-7:30 in the Coddington Room. Instructional Lectures & Strategy on October 3, 17; November 7, 28; December 5, 19 from 4:30-5:30 in the Conti Room. Open to kids, teens and adults. Register at least 1 day in advance online through NP Chess Club, npchessclub.org.
The American Revolution in One Hour (Adults)
October 6 at 7 p.m.
Joel Farkas takes those in a hurry through the founding of our country; from 1754 and the first shots of the French and Indian War, that led to the taxes, that led to rebellion, that led to the Revolutionary War, that led to independence. It's all here, plus: the French Revolution and the War of 1812. Don't forget your sneakers! To register, call or email.
Fit4Kids with Muscle Man Mike presents The Healthiest Show on Earth! (Kids Ages 2-8)
October 10 at 11 a.m. – 11:45 a.m.
It's Super Hero Magic, and you are the Heroes! Muscle Man Mike creates a laugh-out-loud fun and highly interactive show about fitness and health with a little bit of magic. Conti Room. To register, please email.
Batter Up – Let's Talk Baseball (All Ages)
October 10 at 7 p.m.- 9 p.m.
You're invited to discuss teams, players and issues of the sport with other baseball enthusiasts. Now in its eighth year, this group welcomes all ages of fans. To join the group, stop by the reference desk or email the library.
Monthly Movie (Adults)
October 11 at 1 p.m. – 2:50 p.m.
"American Underdog" will be screened in the Conti Family Room. In this inspirational true story, Kurt Warner (played by Zachary Levi) goes from stocking shelves at a supermarket to become a legendary two-time NFL MVP, Super Bowl MVP, and Hall of Fame quarterback. This PG film was released in 2021.
First-Aid Training for the Zombie Apocalypse! (Teens)
October 11 at 5:00 p.m.
Learn First-Aid Survival Skills. This month's Zombie apocalypse program will teach how to survive everything from zombie attacks to accidents to heart attacks! Open to teens in grades 6-12. Email to register.
Hindi Conversation Group (Adults)
October 12 at 10 a.m.
Want to practice your Hindi language skills in conversation with others? This is not a class, but a conversation group moderated by a library staff member. To sign up, email or call.
Book Group (Adults)
October 13 at 7:30 p.m. – 8:30 p.m.
The book group will discuss "Maid: Hard Work, Low Pay, and a Mother's Will to Survive" by Stephanie Land. A journalist describes the years she worked in low-paying domestic work under wealthy employers, contrasting the privileges of the upper-middle class to the realities of the overworked laborers supporting them. Copies available to check out one month beforehand at the front desk.
Hickory Tree Chorus (All Ages)
October 16 at 3 p.m. – 4 p.m.
Come hear some of your favorite songs performed in four-part harmony by the award-winning Hickory Tree Chorus. This women's a cappella group sings Broadway, Beatles, and old-fashioned love songs in the barbershop style. This concert is part of the annual concert series sponsored by the Friends of the New Providence Memorial Library.
Book Group (Adults)
October 18 at 10:30 a.m. – 11:30 a.m.
The book group will discuss "The Four Winds" by Kristin Hannah. In 1934 in Texas, millions are out of work and a drought has broken the Great Plains. Copies will be available to check out at the front desk one month beforehand.
Diwali Craft (Teens)
October 18 at 5:30 p.m. – 6:30 p.m.
Come create a unique craft to brighten your decor! Teens in grades 6-12 are invited to create a Diwali craft that will add light to your bedroom or any room of your house at any time of year. Registration required as supplies are limited. Email to register.
Knit/Crochet Night (Adults)
October 20 at 7 p.m. – 8:30 p.m.
Drop by the Conti Room with a crochet or knitting project, and chat with the group! No registration required. To sign up for an email reminder, please call the library or email.
Sewing Machine Workshop (Adults & Teens)
October 22 at 2 p.m. – 4 p.m.
Make your own pincushion while learning how to use a sewing machine in this workshop. Ellen Lumpkin Brown is the owner of Sew It! Workshop, an occasional instructor in Wearable Art at the Newark Museum of Art, and the author of "Doll Fashionistas." Sewing machines will be provided. Registration is required, as spots are limited. Email to register.
YA Author Talk (All Ages 11+)
October 23 at 2:00 p.m.
Come to the library to meet three YA authors as they talk about their books, their process and answer questions from readers. YA literature is a growing collection, read by just as many adults as teens! Featuring the following YA authors:
• Maryanne Woods, author of Lazarus
• Yvonne Ventresca, author of Black Flowers, White Lies and Pandemic
• Erica George, author of Words Composed Of Sea And Sky and The Edge Of Summer
Cookbook Club (Adults)
October 25 at 10:30 a.m. – 11:30 a.m.
Choose a recipe or cookbook from a list of suggested cookbooks to talk about with the group, or bring in one of your own recipes or cookbooks! This month's theme is autumn. If you're feeling inspired, make your dish and bring it with you. There will be time to share cooking and baking tips and tricks. To join, stop by the reference desk or email RSVP@newprovidencelibrary.org.
Daria's World of Music (Kids ages 3 and up)
October 29 at 2 p.m. – 3 p.m.
Play instruments from around the world as Parent's Choice Award-winning international folksinger Daria sings and plays guitar during this highly interactive musical experience in the Conti Room. We'll be celebrating Dia de los Muertos (Day of the Dead) so be sure to wear your Hallowe'en costume! This program is made possible by the Friends of the New Providence Memorial Library. To register, please email.
Little Monster's Halloween Bop (Kids 0-Pre-K)
October 31 at 10:30 a.m. – 11:00 a.m.
Dress your little ones in their Halloween best! In the Conti Room, we'll listen to a Halloween story, have a parade and trick or treat around the library. To register, please email.
Storytime at the Library:
In-person Storytimes are held outside when weather permits. In case of rain, morning outdoor storytime will be inside the library's Coddington Room.
Tuesday Evening Virtual Bedtime Stories with Miss Debbie
All Ages at 7:00 p.m.
Starting in October, tune in to YouTube for this program. Email to receive the link via email for the virtual program.
Mother Goose Group with Miss Debbie
Wednesdays at 10:30 a.m.
(babies -preschool)
An active storytime with songs, fingerplays, dancing and fun for babies to preschool– But older kids are always welcome! Bring a blanket to sit on when outside.
Storytime with Miss Anita
Thursdays at 10:30 a.m. (0 – 3 yr olds)
Bring your babies and toddlers for stories, rhymes and socialization.