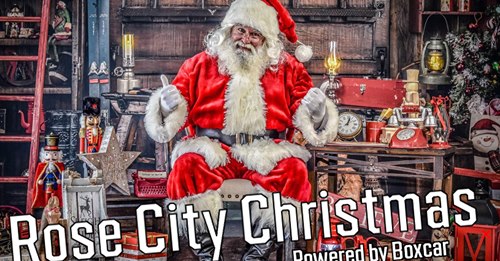 New Holiday Traditions in Madison
Like most things in 2020, the holidays will look a little bit different this year – but there will still be plenty of holiday spirit in the Rose City! Because the safety of Madison residents is our top priority, we're forgoing our traditional Christmas parade and tree lighting, and starting what we hope will be some wonderful new traditions.
On Friday, November 27, Santa Claus, accompanied by our Police and Fire Departments, drove through every street in town to kick off the holiday season!
Santa will also be available for visits and photos in the weeks leading up to Christmas. We've worked hard to provide a safe opportunity for kids to chat with Santa while parents can get some great photos. Although little ones won't be able to sit on Santa's lap this year, you also won't have to wait in the normal long line. Thanks to Boxcar, you can reserve a time to visit Santa! Each timed visit will cost $20, which benefits the Madison Christmas Committee and will help keep the Christmas spirit strong in the Rose City. Madison residents will have exclusive access to the reservation system starting on Thursday, 11/19 at RoseCityChristmas.com. After Thanksgiving, we'll open it up to residents of surrounding towns. You can find all the details at RoseCityChristmas.com.
We want to thank all the people who have helped to save Santa this year, including the Madison Police and Fire Departments, Boxcar, the Toto Family, J&M Home & Garden, and of course Madison Santa himself!
If you are unable to afford this but would still like to visit Santa, please contact support@boxcarapp.com.
Check our Events Calendar for More Local Events