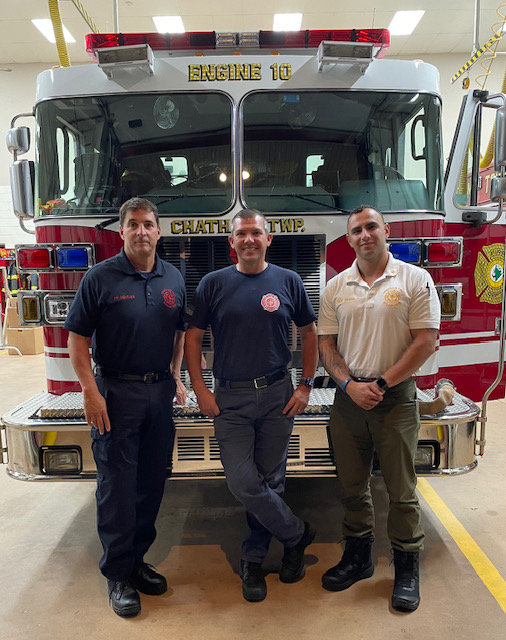 New CTVFD Member Nick Nikolopoulos
The Chatham Township Volunteer Fire Department (CTVFD) welcomed its newest member, Nick Nikolopoulos, this year.
Nick joined the CTVFD in January of this year and graduated from the Morris County Fire Academy in June. Nick, his wife Eve and three teenage boys ages Peter (13), Chris (15), John (17). moved to Chatham Township from Brooklyn three years ago.
Nick began his journey to become a firefighter at the age of 12, volunteering in the youth squad of his local ambulance in Brooklyn. He became an EMT at age 17. Nick worked in the FDNY system as a medic for 10 years and volunteered at his local ambulance squad for 25 years.
Upon moving to Chatham, Nick looked for opportunities to get involved and give back to his new community. His introduction to the CTVFD was at the annual Christmas tree sale at fire headquarters on River Road where he saw a sign that said volunteers needed. He joined two weeks later and never looked back.
As Nick shared, "In addition to having the opportunity to meet and serve my neighbors, I love the professionalism, enthusiasm, and constant training opportunities that our department has. I am honored to be a firefighter in our community, and I am looking forward to representing our town well."
Chief Matt Chase commented, "Nick is a great addition to our team. He brings a wealth of experience and knowledge that we will all benefit from."
Are you interested in meeting Nick and some of the other members to learn more about becoming a volunteer? If so, please email membership@ctfd.org for more information.
About the Chatham Township Volunteer Fire Department
Established in 1925, the Department is comprised entirely of volunteer members including 25 active firefighters, junior firefighters and associate members providing services 24 hours a day, 365 days per year. The department operates its headquarters on River Road and a second station on Southern Boulevard and responds to approximately 300 calls each year, both within Chatham Township and in the form of mutual aid to departments in neighboring communities.