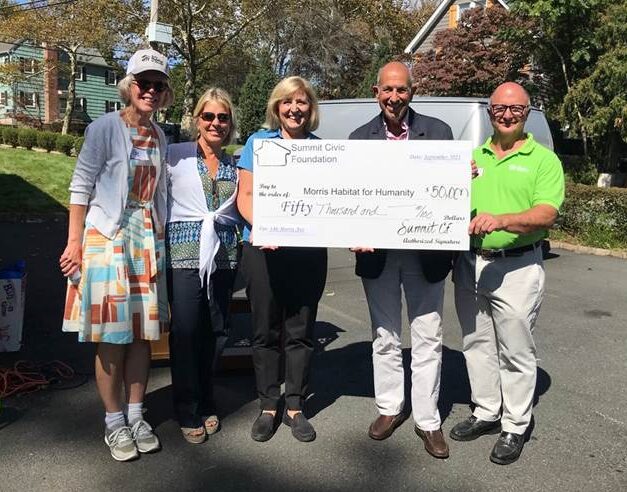 Morris Habitat for Humanity Affordable Housing
Submitted by Kelly G. Vanasse
Morris Habitat for Humanity has collaborated with Summit city officials to bring 12 units of affordable housing to 146 Morris Avenue, the site of the Summit Italian-American Club. The project will feature 12 condos in an L-shaped building consisting of six 3-bedroom and six 2-bedroom units. The project is scheduled to break ground in the Spring of 2022.
On Monday, September 27, Morris Habitat hosted its annual volunteer luncheon at the Wallace Church. At the luncheon, attended by about 100 volunteers, board members from The Summit Civic Foundation presented a check for $50,000 to be used for the project. The Summit Civic Foundation is a private nonprofit corporation, started in 1954, which offers affordable housing to deserving families in Summit.
The Foundation property is located behind Summit High School on Weaver Street and Dennis Place. The property consists of 24 duplex two- and three-bedroom units. The Foundation's primary goal is to serve young families with children by providing them with affordable housing. This enables them to benefit from Summit's excellent schools and many other services and organizations in town.
Rosalind Kendellen, President of The Summit Civic Foundation said, "The foundation was proud to give Morris Habitat this money because we believe in affordable housing and want to expand opportunities for more families in Summit."
For more information on the Summit Civic Foundation please visit summitcivicfoundation.org.
About Morris Habitat for Humanity
Morris Habitat for Humanity is part of a global, nonprofit housing organization committed to building homes, communities, and hope. Through volunteer labor and donations of money and materials, Morris Habitat builds affordable new homes and provides home repair services to income-eligible families. Since 1985, Morris Habitat has served more than 660 families through building 120 local homes, preserving 200 homes for low-income and senior residents, and helping 280 families with housing solutions worldwide. The organization has engaged more than 130,000 volunteers for various programs. Morris Habitat also operates a successful ReStore home improvement outlet which has kept 11,000 tons of reusable materials out of landfills and funded 28 homes. For more information, visit Morrishabitat.org or call 973-891-1934.