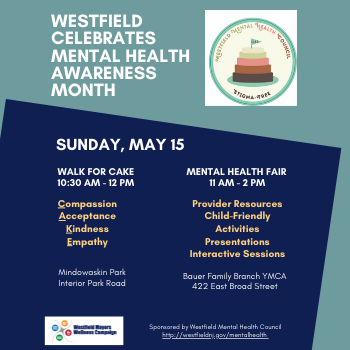 Walk for Cake and Fair – Sun., May 15
Westfield Mental Health Council
To celebrate National Mental Health Awareness Month, and in recognition of the difficult times many in our community have experienced over the past two years, the Westfield Mental Health Council will present a Mental Health Day of free activities on Sunday, May 15.
The day begins with a "Walk for Cake" in Mindowaskin Park from 10:30 a.m. – Noon. CAKE stands for the town's emphasis on Compassion, Acceptance, Kindness and Empathy. Check in on the interior park road adjacent to the gazebo and enjoy a walk in the park punctuated with stations highlighting aspects of wellness such as yoga, music, art, meditation and pet therapy. Celebrate completion of your walk with a scrumptious treat.
Then cross the street and enter the Bauer Branch of the Westfield Area YMCA to enjoy child-friendly activities, mental health provider resources and the following presentations between 11:45 a.m. – 1:45 p.m.:
Dr. Roz Dorlen will discuss anxiety
Michelle Habayeb, Crisis Line Program Director at Caring Contact will address suicide prevention
Lucy Pritzker from Elm Street Placements will discuss levels of care
Sean Foley of the IAddicted Program will address technology addiction
Angelo D'Amico from High Focus Centers will discuss substance addiction
Resources will be available from Prevention Links, The IAddicted Program, YWCA Union County, Caring Contact, Trinitas Hospital, High Focus Centers, Free the Bird, NAMI, Community Access Unlimited, Here2Help and more.   

Check westfieldnj.gov/421/mental-health-council for more information as the date gets closer.  Please email mentalhealthfair.westfield.nj@gmail.com if you are interested in volunteering for either the walk or the fair.