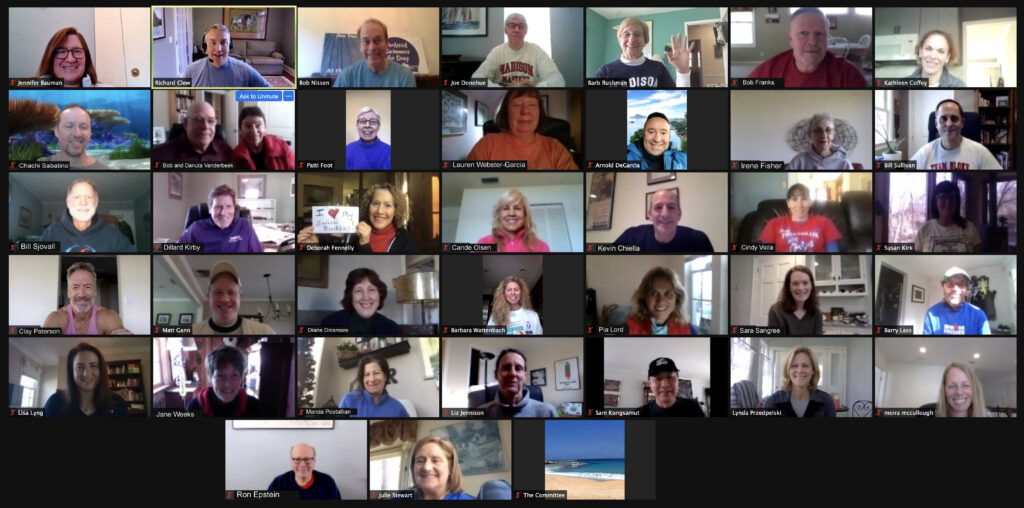 Local Masters Swimmers Celebrate 17th Anniversary
Submitted by Barbara Rushman
A group of Masters Swimmers from Madison and the surrounding areas have had the privilege of swimming together for many years at Drew University, the Madison YMCA, Madison Community Pool, the Summit YMCA and other close by locations.
Traditionally, the group tracks monthly swim yardage on a user friendly website. Because the pandemic limited the group's ability to swim regularly this year, tracking of yardage was temporarily suspended in March, and resumed in June on strictly a voluntary basis. After resumption, the monthly ranking of yards by swimmer was not published as it had been in the past, so that none of our swimmers would feel any pressure to track during this unusual year. For the first time ever, we elected not to award "Yardsticks" to swimmers at our traditional awards breakfast based on their annual yardage achievements.
But we were determined to connect with each other as a group as we do every year. So the Masters Yardstick Swimmers celebrated the group's history, strong personal relationships, and love of swimming recently at its 17th anniversary annual awards breakfast on January 9th, online for the first time ever, with record participation. Hosted by longtime swimmers Bob Nissen, Joe Donohue, and Richard Clew, the agenda of the Virtual Event picked up on highlights and photos of our past live events (thanks to group historian Barbara Rushman) and brought us together in such a way that all active members could relate to and enjoy.
One of the highlights of our past breakfasts has been an endless breakfast buffet that we all have enjoyed, with many of our swimmers preparing and bringing their own secret family specialty casseroles, deviled eggs, coffee cakes, bread puddings, and sticky buns. Since it was impossible for all of us to be together, the food selections were cleverly recreated on a virtual buffet table, visually introduced one by one thanks to swimmers submitting their suggested recipes. The buffet table was filled and was "virtually consistent" with the actual one at our past events, and provided us all "food for thought" as we envisioned how good each item would be, and perhaps determining a way to recreate those favorites in our own kitchen. Not quite the real thing, but as close as you can get in the current environment. It provided an opportunity to be thankful for all of our good times in the past, and anticipated future events when we can be together and each enjoy the buffet again.
At our virtual breakfast, we also asked swimmers to submit their idea of a perfect swim in the future, when we would expect to have less restrictions than under our existing situation. Swimmers dreamed of future indoor and outdoor swims with the freedom to spend the time we wanted in swimming with our fellow swimmers, friends, and families, and optimizing our yards once again. And one dream to reality we witnessed was a picture of the new Madison YMCA pool, which is expected to be completed by the end of June, 2021. This beautiful new eight-lane modern pool will be a welcome venue for many of us who swim in the area.
Finally, we did provide a virtual ranking of all of our swimmers in yardage "clusters", starting with 1-100,000 yards, and progressive 100,000 yard clusters beyond these (thanks to our web site coordinator Barry Lass). All sixty of our swimmers fell into one of nine clusters, and were alphabetically listed to eliminate any specific ranking within a cluster. The one person in our highest cluster was Jennifer Bauman of Parsippany, achieving an annual yardage level within the 800,000-900,000 range.
At the end of the event, we took a group picture on Zoom – a screen shot – which provided yet another opportunity to connect with each other in this special way. We all had a great time and were so happy to connect online with our "swim buddies" once again.
We will continue our optional tracking for now, and we are convinced that our program will evolve and grow again over time. Most importantly, we look forward to the day when we can all say without hesitation "see you at the pool".
For more information please contact Bob Nissen at bobnissen@gmail.com.