Mark Spinner Honored for 40 Years of Service to the Chatham Emergency Squad
On Saturday, February 9, 2019, at a reception to install the newly elected officers of the Chatham Emergency Squad, the evening quickly turned to one of celebration, stories of heroism and profound admiration and gratitude for Mark Spinner, aka "Spanky," who had recently retired following a record-setting 40 years serving as an Emergency Medical Technician (EMT) with the Chatham Emergency Squad.
A true fixture of the Chatham community and lifelong resident, Spinner had worked for the United States Postal Service delivering mail throughout the Chathams, before serving as a crossing guard, stationed at the corner of Main Street and Lafayette, helping middle school students safely cross the street.
But it was his 40 years of devotion and dedication every Saturday night from 7 p.m. to 7 a.m. to help those in need which defines the legacy of Spinner, who was recognized among a grateful audience of past and present EMTs and members of the Chatham Borough and Chatham Township committees. Accepting his first award of the evening, Spinner recalled the time when a patient later tracked him down, stopped him on his postal route and gave him a hug for saving his life. "This is what has motivated me for 40 years, and I have to say – there is no greater joy in life," said Spinner, holding back tears.
When not saving lives, Spinner is revered for bringing smiles to thousands of children of all ages with the advent of the Chatham Emergency Squad "Snow Village". For 15 years, Spinner has been running an impressive display of model houses and figurines with a working model train, which takes up a holiday-themed room at the Squad building. Spinner has agreed to loan the equipment to the Squad for future generations to enjoy.
Dick Richards Award for Excellence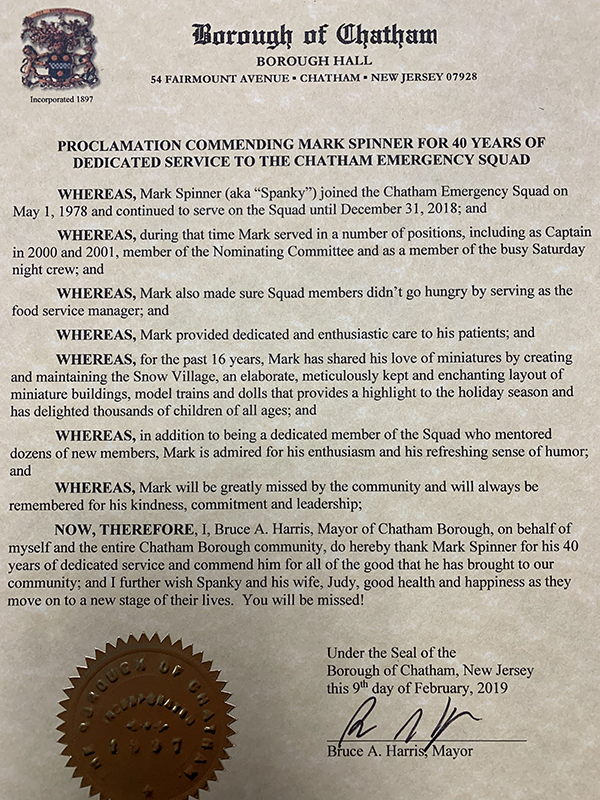 Named after Dick Richards who served as the President of the Chatham Emergency Squad in 1966 and was a member for 37 years (a previous record), the Dick Richards Award for Excellence is given out to an exceptional EMT who is considered a role model for others to follow, someone who exemplifies leadership and greatly contributes to the collegial atmosphere of the Squad. Established in 2012, only three members have received this award, including Jerry Medina (2012), Marty Sechehay (2014) and Sam Francis (2016). The nominating committee and the Board of Trustees unanimously voted to award Spinner with the Squad's highest honor.
"Mark is a living legend throughout Chatham, and his record of service and an abundant love for helping others exemplifies the best of the Chatham Emergency Squad," said Steve Davenport, Captain of the Chatham Emergency Squad. "His spirit of teamwork is contagious, and he is someone we all greatly admire. It was an emotional evening filled with abundant recognition befitting a man of his stature."
Additional Honors
Spinner's wife of 36 years, Judy Spinner, was also thanked for her service to the squad and for sharing so much of Mark's time. Following numerous standing ovations, the evening was further capped by Chatham Borough Mayor Bruce Harris, who issued a proclamation commending Spinner for his years of service to the people of Chatham.
Lastly, to commemorate the occasion, the Chatham Emergency Squad "retired" number 3907 – Spinner's radio call signal. This was fittingly marked by the "hoisting" of Spinner's uniform to the ceiling, as is done upon the retirement of famous sports heroes.
Mark and Judy Spinner are relocating to a warmer climate from Chatham in Spring, 2019.
About the Chatham Emergency Squad
The Chatham Emergency Squad is an all-volunteer organization funded almost exclusively by donations. CES never charges for its services. In 2018 they responded to over 1,200 emergency calls and provided free training in CPR to more than 400 residents, teachers, coaches and emergency personnel. To learn more, to donate or to volunteer, please visit chathamemergencysquad.org.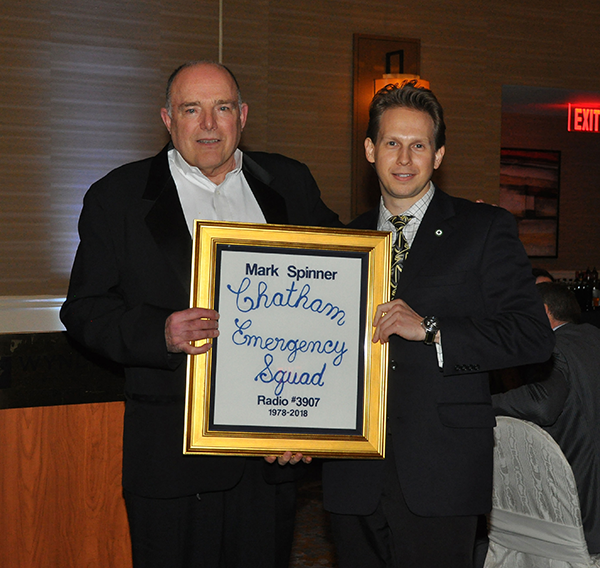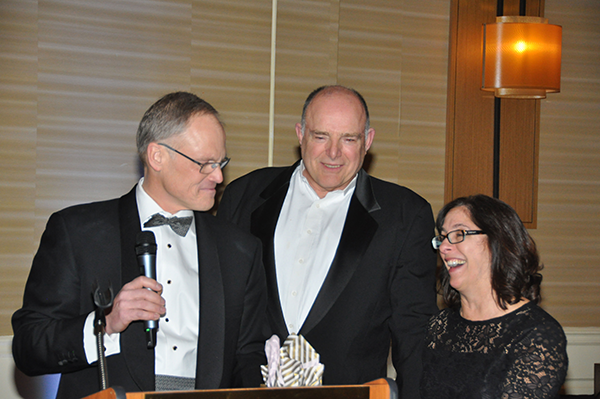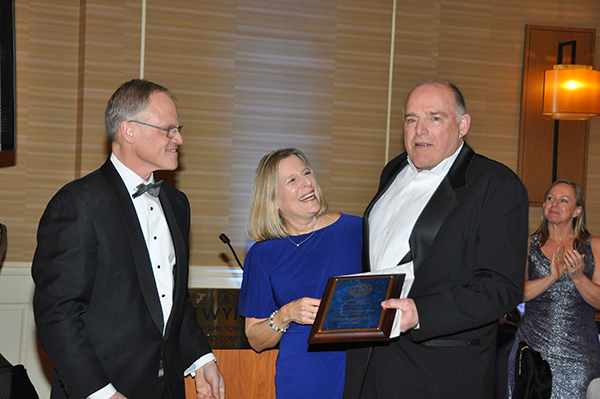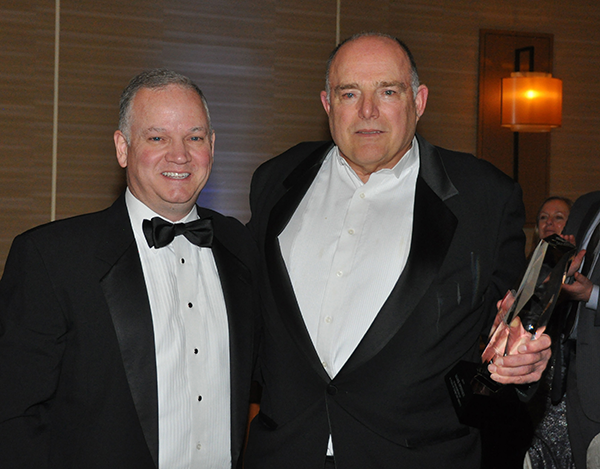 Submitted by Craig Alperowitz