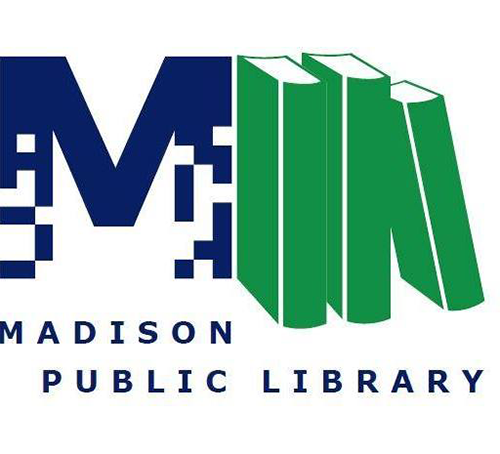 Madison Public Library October 2021
All programs are online zia Zoom. You will receive Zoom instructions and online meeting information in your registration confirmation email in addition to a reminder email prior to the date of the program.
Please register at madisonnjlibrary.org.
Georgia O'Keeffe: Speaking in Color and Shapes- via Zoom
Monday, October 4 at 7 p.m.
Georgia O'Keeffe, one of the most important and fascinating artists of the Twentieth Century, has given us images of audacious flowers, dramatic cityscapes, glowing landscapes, and haunting depictions of bones against the stark desert sky. This talk will examine her innovative works and her long and productive life.
This lecture will be given by Janet Mandel. Janet Mandel taught in New Jersey's public schools for 32 years, the last eighteen of which were at Columbia High School in Maplewood, where she taught English, art history, and World Languages and Cultures.
Virtual Cooking with Chef T-via Zoom
Tuesday, October 5 at 2:30 p.m.
Theresa is the Chef and the owner of Jeremiahs Catering & Cooking Studio. Known as Chef T, she considers food quality and the nutritional value of each food as being extremely important. This is why she tries to come up with balanced dishes, by using only fresh and high-quality ingredients. The result is food that tastes amazing and is filling at the same time, providing all the nutrients the body needs in order to stay healthy.
We will be making Octoberfest chicken schnitzel with creamy mushroom sauce. Stay tuned for more programs with Chef T.
History of Scotch Whiskey- via Zoom
Wednesday, October 6 at 7 p.m.
Whisky is the national drink of Scotland, and the most popular spirit in the world: it is a multi-billion dollar industry employing thousands globally and one of the UK's leading exports. Yet, it is more, much more than this; it's a story – a story of a drink, a culture, a people, a land and a way of life. From the humblest of origins, to the glamorous world of 'Mad Men' Scotch has come a long way, and it is a fascinating tale.
So, with glass in hand we will begin that journey and explore the origins of spirit, its eventual arrival into Scotland and how the process was refined and perfected to the malts and blends we enjoy today.
The presenter is David McNicoll, a self-professed expert on whisky. Seriously though, Davis is an expert. He has worked with a number of Scotch brands as Ambassador in New York City; he owns a travel business that specializes in Scottish historical, clan and whisky tourism; and, he has recently published a book called: The Language of Whisky.
What Should We Read Next?- Via Zoom
Wednesday, October 13 at 7 p.m.
Get a heads-up on your upcoming reading list with publishing insider Carol Fitzgerald as she shares news about late 2021 buzz-worthy titles and a look ahead to early 2022. Carol is the President of The Book Report Network—a group of internet sites on books and authors that have become the gathering places for a large and devoted community of booklovers since 1996, and the host of the "Bookreporter Talks To" video/podcast series.
The Rolling Stones Story-Via Zoom
Monday, October 25 at 7 p.m.
Join us as we are once again rocked by Vinnie Bruno, Rock Historian Extraordinaire. This lecture is the story of rock's original "bad boys" as we journey with them thru their formative years as a cover band devoted to American blues, into their early shows which dictated violence and chaos, thru their notorious drug busts, personal and songwriting conflicts, and management and legal issues while earning the reputation as the greatest rock n roll band with classics from "Satisfaction" to "Brown Sugar." For our encore we will highlight some of their post 60's work.
In Conversations with the author of "From Day to Day"- Tim Boyce- via Zoom
Tuesday, October 26 at 7 p.m.
From Day to Day is a World War II concentration camp diary—one of only a handful ever translated into English—secretly written by Odd Nansen, a Norwegian political prisoner. Arrested in January 1942, Nansen, son of polar explorer and humanitarian Fridtjof Nansen (Nobel Peace Prize 1922) was held captive for the duration of the war in various Nazi camps in Norway and Germany. The book had been out of print for nearly 60 years when Timothy Boyce stumbled across it. Fascinated by the heroic story and saddened that such a magnificent book was so scarce and nearly forgotten, Boyce set out to get the book back in print. It now features a new introduction and extensive annotations by Boyce and a preface by Thomas Buergenthal, whose life (as a ten year-old) Nansen saved while in Sachsenhausen, later recounted in his own memoir A Lucky Child: A Memoir of Surviving Auschwitz as a Young Boy. Hear more about this incredibly moving story as Boyce shares the story of Odd Nansen with the audience. From Day to Day may be purchased at www.timboyce.com for $39.99. All royalties from the sale of this book are given to the U.S. Holocaust Museum in Washington D.C., and the Center for the Study of the Holocaust in Oslo, Norway.