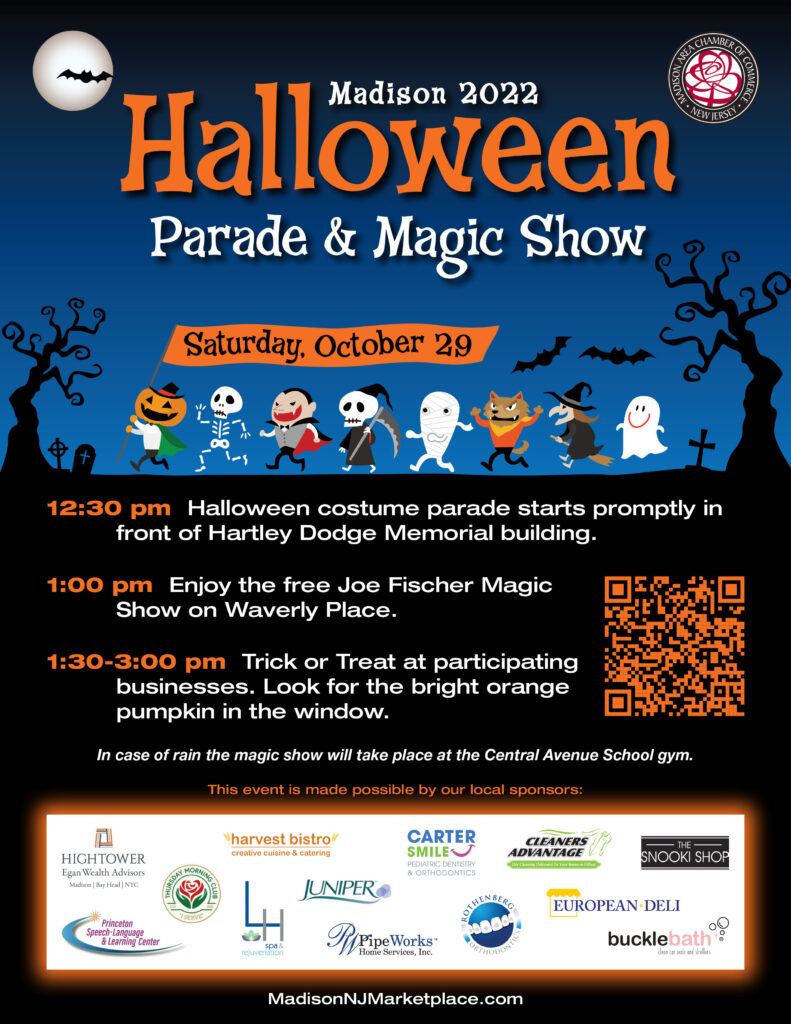 2022 Halloween Parade & Magic Show
The Madison Area Chamber of Commerce 2022 Halloween Parade & Magic Show is scheduled for Saturday, October 29 from 12:30 – 3:00 p.m. Children and their parents are invited to attend a Halloween costume parade followed by a magic show and trick-or-treating in the downtown business area. Trick or Treating will not be permitted before the end of the magic show.
The schedule of events is as follows:
12:30 p.m.: The Annual Halloween Parade will start promptly in front of the Hartley Dodge Memorial Bldg., 50 Kings Rd. Participants will march to Green Village Rd. to Main St. and finish on Waverly Pl. and Lincoln Pl.
1:00-1:30 p.m.: The Joe Fischer Magic Show will be held on the corner of Lincoln Pl. and Waverly Pl.
1:30 pm-3:00 p.m.: Children in costume are invited to trick-or-treat through the downtown business district. Participating stores will display a bright orange pumpkin in their windows.
In case of rain, the Joe Fischer Magic Show will take place in the Central Avenue School Gym, 50 Central Avenue.
For more information about Joe Fischer and his magic shows pleasevisit JoeFischerMagic.com or facebook.com/JoeFischerMagic.
Please contact Karen Giambra at MadisonChamber@gmail.com or at 973-214-7014 for any questions or more information.