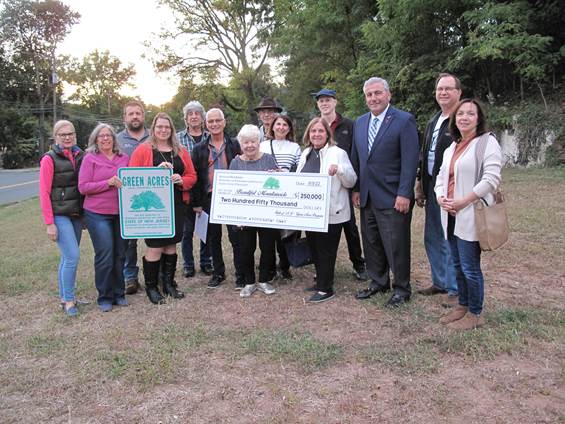 Lots to Preserve Open Space
The volunteer group Beautiful Mountainside joined forces with the Borough of Mountainside to purchase two adjacent lots at the corner of Mountain Avenue and New Providence Road in Mountainside, in anticipation of creating open space.
Beautiful Mountainside worked hand-in-hand with the Mountainside Mayor and Borough Council to secure a significant portion of the funding for the purchase through two grants one for $59,000 and another for $250,000 grant from New Jersey Green Acres funds. At the same time, the Borough utilized funds from the sale of the Barnes Tract plot of land (located on Mountain Avenue), which means there are no tax implications to Mountainside residents.
"We love the rural feel of our town, and this open space will further enhance our downtown area," said Mountainside Mayor Paul Mirabelli. "Beautiful Mountainside and the Council feel this can become a mini town square, offering residents a respite during the day or evening, and a focal point for us. We also plan to add a tree here for holiday celebrations" he added.
Within weeks of closing on the properties, Mountainside Public Works had already cleared debris from the lots and excavated them, in anticipation of landscaping and planting of foliage and trees.
"I grew up in this town and was delighted to return about 16 years ago. It's a very special place to me," said Todd Evans, Beautiful Mountainside president. "We created Beautiful Mountainside as a way to give back to the town and we're so pleased to have been able to work so closely with the town on this amazing project – I think this will be a real centerpiece of our downtown."
The Beautiful Mountainside group hosts regular litter clean up throughout the town as well as along Route 22. Additionally, they've purchased and maintain flower/plant boxes that line businesses on Mountain Avenue, as well as around Borough Hall. Further, they host seasonal house decorating contests, have planted thousands of bright daffodils at key town entry points and maintain the landmark Holiday tree on Route 22. This 501(c)3 group raises most of its funds through its annual Halloween Party, which will be return in 2023 (following a pause during Covid).
"Being able to work this closely with the Mayor and Council to realize the dream of creating open space is so rewarding to me and all our members," said Alice Cowell, Beautiful Mountainside Vice President. "We both want to keep our town as picturesque as possible, while also building town spirit."