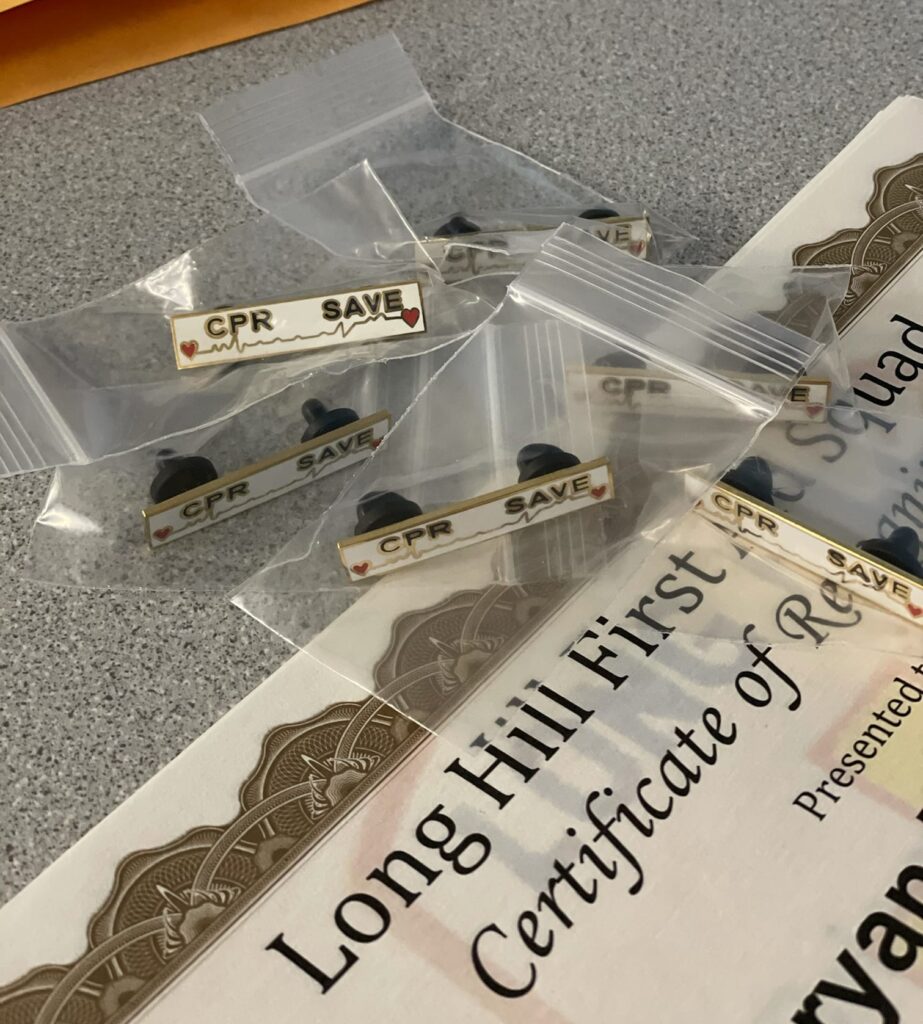 Long Hill First Aid Squad Members Honored
In 2020 Long Hill First Aid Squad had two CPR saves. On March 2, 2021 those who where involved received a pin and certificate recognizing their life saving efforts.
The Long Hill Township Police Department arrived first on scene in both instances in which the patient was in cardiac arrest. With their high level of training they acted quickly to initiate CPR and utilize the AED before the arrival of the Long Hill First Aid Squad and Atlantic Mobile HealthParamedics who continued patient care at the scene until arriving at the hospital. Both patients have fully recovered.
Personnel involved in CPR Save – April 7, 2020
Long Hill Police Dept.: Dolores Langenbach, Bryan Hartmann, Brian McGuire
Long Hill First Aid Squad: Carly Snyder, Mikaela Teixeira, Lisa Scanlon, Samantha Hoffmann, Robert English, Michael Hoffmann, Stephanie Moore, Paul Wermuth
Personnel involved in CPR Save – October 18, 2020
Long Hill Police Dept.: Brian McGuire, Matt Newschwander, John Kiseli, Jeffrey Scala
Long Hill First Aid Squad: Samantha Hoffmann, Robert Hovanec, Alec Meehan, Gordon Redgate, Scott Orshan, Jim Dellureficio, Carly Snyder, Mikaela Teixeira, Vincent Viotto, James Young, Harold Alaan, Robert English