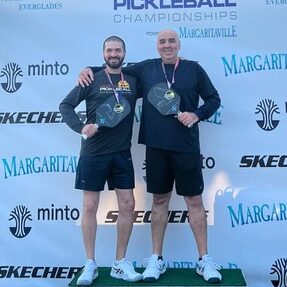 Locals compete in Pickleball Championships
More than 3,000 pickleball players of all ages and skill levels, including Vishal Talreja from Short Hills and Parash Advani from Hoboken, competed in the largest and  most prestigious event in pickleball – the 2023 Minto US OPEN Pickleball Championships powered by Margaritaville. The event was staged from April 15-22 in beautiful Naples, Florida, the Pickleball Capital of the World,  with a record number of players, a $125,000 pro prize purse, and a world-class field of players. After more than 5,000 matches during the week, the action concluded on Saturday. Vishal and Parash earned a Bronze medal in the Men's Doubles age 40+ 4.0 skill level. 
Known as the "Biggest Pickleball Party in the World™" for the electric atmosphere that pulsates through the largest permanent pickleball facility in the world with 64 courts, it attracted a record 35,000 spectators. The event was streamed live on the Pickleball Channel all week and the women's and men's pro doubles finals broadcast live on CBS Sports Network on April 22. More information is available at USOPENPickleball.com.