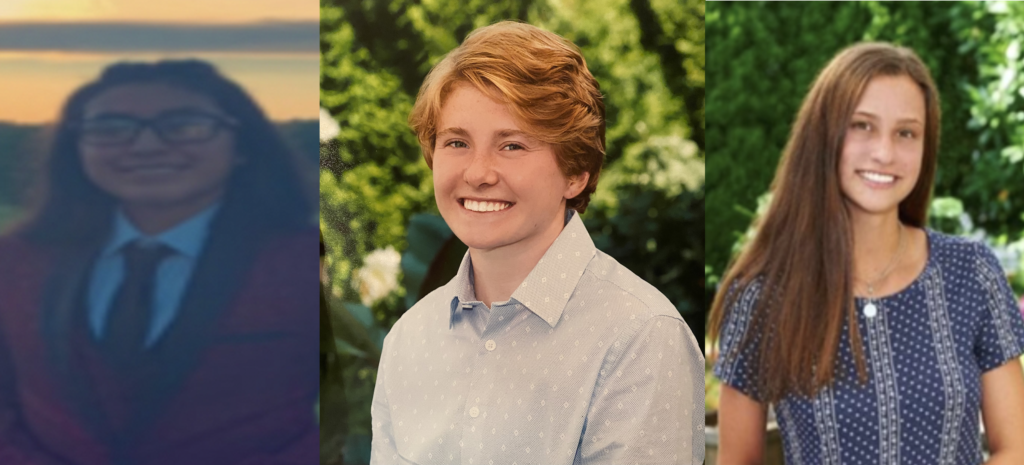 Lions Club High School Scholarship Recipients
Submitted by Linda Kale
Every year the New Providence Lions Club awards 3 deserving New Providence resident high school graduating seniors a $2,000 scholarship to help further their education. Emphasis is on a good academic record, commitment to citizenship, leadership and to both school and community service.
This year's recipients of the Irwin M. Gillet, Judge Frank Pizzi Jr. and the Leland Russel Memorial Scholarships are Melanie Huashuayo, Clare Kelly and Lindsay Kinum.
Melanie Huashuayo will be attending Kean University majoring in Finance.
Clare Kelly will be running Division 1 cross country and track for the University of Vermont and majoring in environmental science in the UVM Environmental school – Rubenstein.
Lindsay Kinum will be attending the Carrol School of Management at Boston College majoring in Finance.
"The New Providence Lions are committed to supporting our youth as well as our entire community – We Serve. All funds that we raise go back into the community and we are particularly proud to award these scholarships to three outstanding young students. They are very impressive young adults and we wish them continued success in their academic endeavors" commented Tom Montrone, President of the New Providence Lions club.
The New Providence Lions Club is a 501(c)3 organization, giving back to the community 100% of the profits raised. Organizations that benefit from our annual support include NP Recreation Dept., Fire Dept., Community Service Assoc., EMS Rescue Squad, Senior Citizens Center, PBA, NPHS Scholarships, NP Historical Society, Health Fair, NP Public Library, Drive for Autism, Soup Kitchen 411, Bonds of Courage and many more!
Being a Lion empowers you to help others in a way that no one person could alone. The Lions are dedicated to helping others. Lions make a difference! To Donate: Mail check to NP Lions Club, PO Box 854, New Providence, NJ 07974. For more information/membership please email info@nplions.org, nplions.org