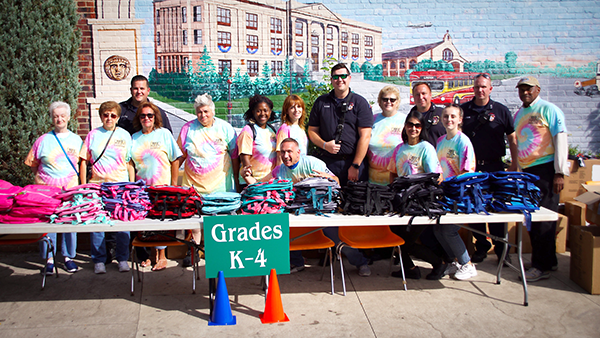 4th Annual Back Pack to School Giveaway
The City of Linden, in collaboration with the Mayor's Youth Commission and the Department of Parks and Recreation, would like to thank everyone who attended and volunteered their time for this awesome back pack giveaway that was held at the Raymond Wood Bauer Promenade on Wood Avenue on August 29, 2019.
Over 980 back packs went like hot cakes, and there was not a single back pack left over! We would also like to give a special thanks to our sponsors and vendors for this event, which includes: A&M Industrial, Chemiclene Inc., John Samsel & Associates, VFW Post #1397, Fire Chief Joseph Dooley and the Linden Fire Department, Linden Public Library, 2020 Census Bureau, Wayne Zuba's Hot Dog Hut, Total Specialty, Brown & Brown Metro, LLC, Linden Airport Management Corporation, Communities in Cooperation, Greater Mt. Moriah Baptist Church, Columbia Bank, Wieland Auto Coach, Ditto Copy Systems. Inc, Northfield Bank, Linden's Department of Transportation & Parking, and also our Summer Student Interns. We appreciate all the support and hope to see everyone again next year for another successful giveaway to benefit our youth of Linden.