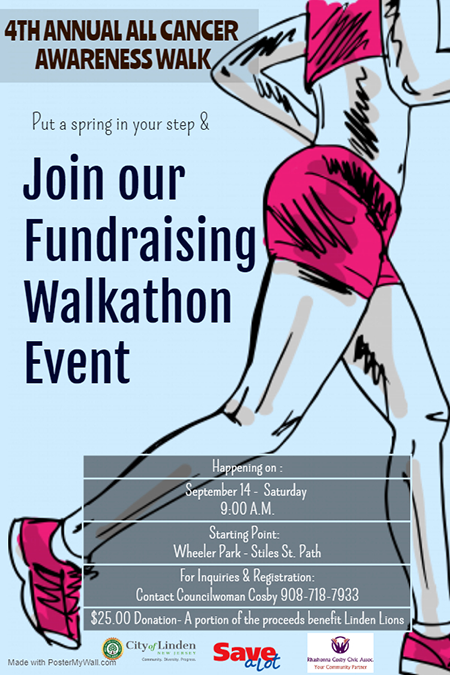 Linden's 4th Annual All Cancer Awareness Walk, September 14th
John Russell Wheeler Park is Located in Linden NJ 07036
Parking: Entrance on West Stimpson Ave
Walking – Paved path
9 am – 12 pm
Registered Participants with eligible tickets will receive a commemorative T-shirt.
Registration is 9 am – 9:45
Participants will walk the paved path at their own pace for 5k or 3 miles.
Free refreshments
Information tables will be set up to provide valuable cancer awareness information on all types of cancers.
To donate to this awareness campaign with no fees please send checks payable to:
RHASHONNA COSBY CIVIC ASSOCIATION – 1122 Middlesex St Linden, NJ 07036
A portion of the proceeds will benefit a local cancer survivor and the Linden Lions Club.
Ticket holders give express permission to be photographed and or recorded in videos that may be used by the event sponsors to promote the awareness campaign.