The Linden Chamber of Commerce held their sixteenth annual scholarship and business awards dinner on June 7, 2017. Four scholarships were awarded to Linden High School seniors. Mayor Derek Armstead made opening remarks and thanked the chamber for everything they do for Linden stating in part "The most important thing the Chamber does is award scholarships annually."
The scholarship recipients were: Mihalia Sarris who will pursue a career in Physical Therapy; Joseph Krempa who will attend Carnegie Mellon University and will pursue a degree in Mechanical and Biomedical Engineering; Gabrielle Rampo will attend New Jersey Institute of Technology; and Zeke Modrak who will attend the Union County College American Honors Program. Zeke is interested in engineering and automotive technology.
The Linden Business of the Year Award was given to Chevys Fresh Mex. Chevys Fresh Mex, located in Aviation Plaza, came to Linden in 2005 and is the home of Award Winning Ribs. Chevys Fresh Mex resembles a Mexican border town café or cantina with a vibrant contemporary décor. Mayor Derek Armestead had this to say "I am truly grateful for all of Chevys' contributions to city events. They are so deserving of this award." General Manager Jorge Rojas stated "Our company prides itself on giving back to the community."
Morning Star Community Christian Center was awarded the Member of the Year award. Morning Star, located at 1009 Chandler Ave, Linden, was founded in 1967 by the late Bishop Irvin Evans, along with his wife Constine, and has evolved into lives being restored and destinies fulfilled. In 1999, their son, Dr. Therman Evans took over the pastorate and is currently the senior pastor. The message of "wholeness" in mind, body, and spirit, and helping people find their way back to God has contributed to Morning Star's increased 800+ memberships under the visionary leadership of Dr. Evans.
Morning Star has established several other initiatives to help serve people and meet their needs. Some initiatives include: Weekly youth activities and mentoring program; Annual scholarships for high school seniors going to college; Senior citizen program and activities; Bereavement counseling; Child Care services; A Center for Employment, Education and Training.
Dawn Victor-Beviano was named Person of the Year. Dawn has been an active member of the Linden Community for over 15 years and has been married to fourth generation resident Todd Beviano for over 20 years. She is the proud mother of National Honor Society member Christina Beviano, and of LHS NJROTC Petty Officer First Class Jaclyn Beviano. As a longtime resident of Linden, Dawn is the definition of being a "concerned citizen" by being involved in the wellbeing and development of not only her family but also of her community.
Among her accomplishments, Dawn has been a Religious Education Teacher at St. Elizabeth of Hungary Church since 2005, where she has guided many students on their Faith development. Dawn has also been an advocate for the children of our city for over 10 years as a Linden Board of Education Member. Since 2012, Dawn has served as the President of the Friends of the Linden Library.
A special recognition award was given to Elaine Lomax who recently retired from the Gateway Regional Chamber of Commerce after 45 years of service, her entire career. Elaine was the glue that bonded all the various arms of the Gateway Chamber together. She is greatly loved, admired and respected by not just her colleagues but also all of her Chamber members. Linden Chamber of Commerce president Janet Miller stated "She's done so much for the Chamber and especially the Linden Chamber, and I love you."
SCHOLARSHIP WINNERS
BUSINESS OF THE YEAR CHEVYS FRESH MEX
MEMBER OF THE YEAR MORNING STAR COMMUNITY CHRISTIAN CENTER
PERSON OF THE YEAR DAWN VICTOR-BEVIANO

LINDEN HIGH SCHOOL STUDENTS PERFORMED AT THE DINNER.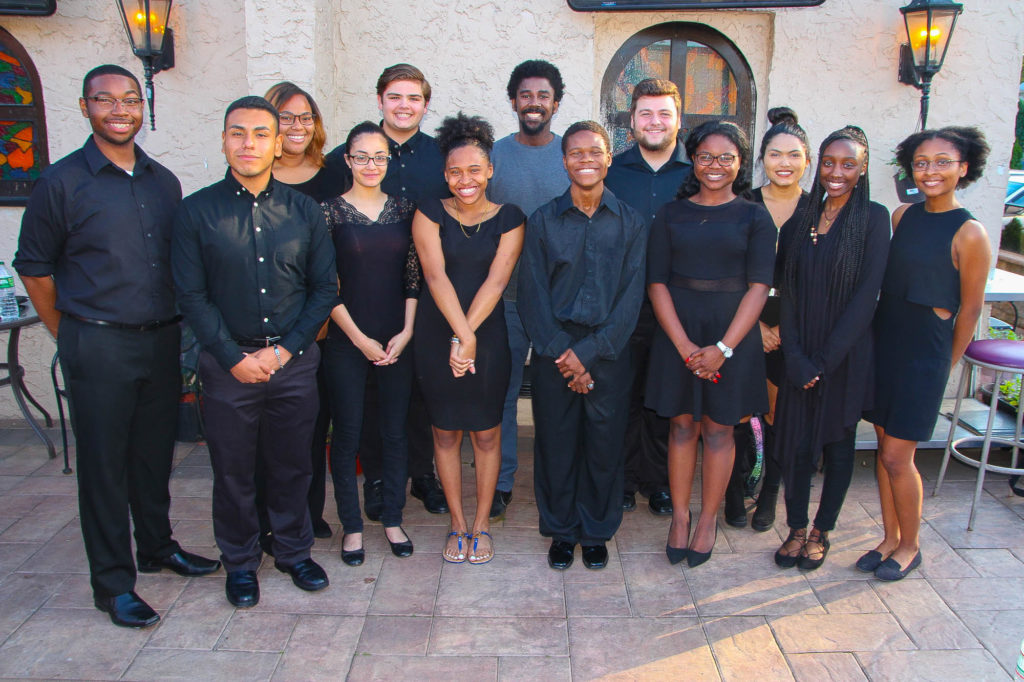 To see more photos of this event visit Linden Chamber Award Night 2017

The Linden Chamber of Commerce is a leader among the great organizations representing the Linden Business Community providing assistance and support for all Linden businesses. From September through June, meetings are held on the 4th Tuesday of each month at 8:30 a.m. at different member locations.
Representatives of Linden's government are always in attendance, allowing for an open and communicative relationship between business owners and the city. For more information please call 908-352-0900.