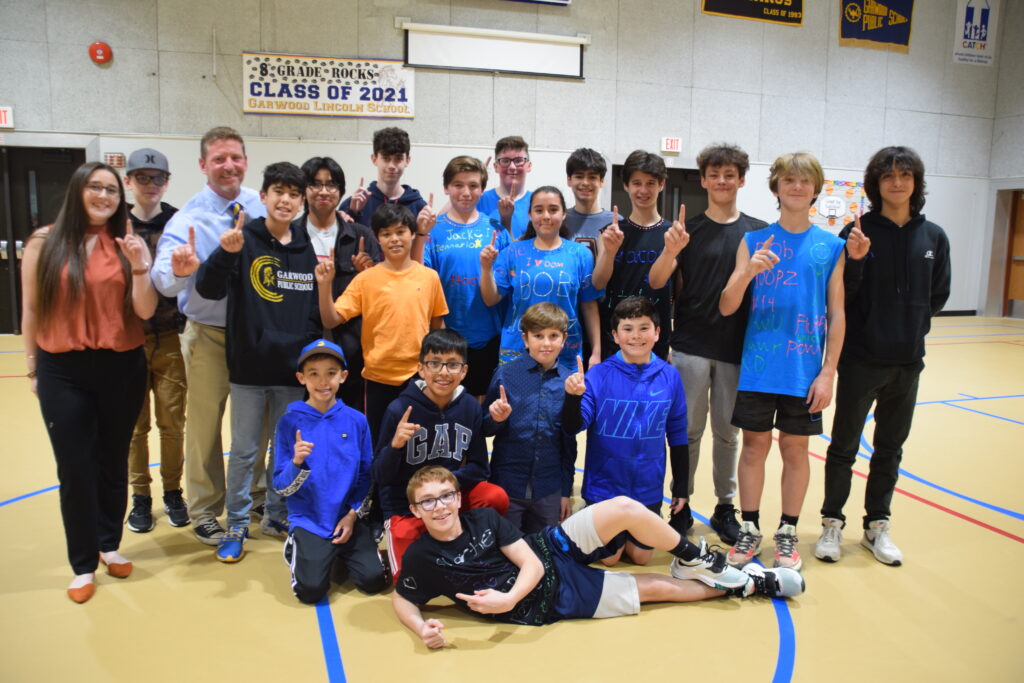 Lincoln School Spirit Night 
Garwood Public Schools
Spirit Night at the Lincoln School in Garwood returned on April 7 to honor the school's middle school soccer and basketball teams. During Spirit Night, two teams mixed amongst the boys and girls basketball players square off against each other in a basketball game. Team Ryan Malcolm took on Team Gianna Mormile, both captains of their teams during the basketball season.
Before the game, the following 8th grade basketball players were honored: Ryan Malcolm, John Brown, Aidan Rogers, Miguel De La Cruz, Carl Knutson, Keegan Parkhill, Brendan Ryan, Mitchell Goodell, Devin Castro, Dominick Papandrea, Michael Parente, Jack Zennario, Gianna Morile, Sophia Cuccaro, Lena Blumenstock, Sofia Cruz, Olivia Castro, and Aleiyah Roberts-Burger.
The middle school soccer team was honored at halftime with the raising of their championship banner after finishing their fall season with a record of 10-1. Members of the soccer team were: Deniz Bek, Anthony DiIorio, Mitchell Goodell, Collin Maloney, Matthew Marczydlo, Dylan Mason, Gianna Mormile, Arturo Palacio, Keegan Parkhill, James Peniche, Henry Ruggiero, Leo Ruggiero, Matthew Ruggiero, Brendan Ryan, Arthur Silva, Stanislaw Walentek, Jack Zennario, and Aidan Rogers. The basketball teams are coached by Matt Burke, Aaren Beaty, Laura Knutson, KC Bree, John Sullivan, and Maria Sophia Mormile. The soccer team was coached by Burke and Danielle LiButti. 
Photos by Garwood Public Schools