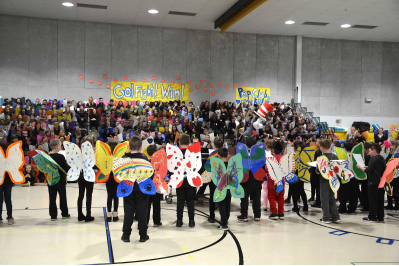 Lincoln School Sets World Record
Submitted by Tamara Benc
Lincoln School staff and students are proud to announce that they are official Guinness world record holders. In March 2020, over 350 students and staff members donned self-made butterfly wings and, in a carefully orchestrated program, made their way into the record books for the largest gathering of people dressed as butterflies.
The work for the attempt began nearly six months earlier as plans were being made for the district's annual Read Across America celebration. Each year The Cat in the Hat visits Lincoln School to congratulate students for their reading efforts. At the start of the 2019-20 school year, a decision was made to "change up" the annual program by adopting the theme "Books help readers take flight into new worlds." To support that theme, the staff began working with students to each craft a personal set of wings to be worn on the day of the visit of The Cat in the Hat and world record attempt: March 3, 2020.
Thanks to the assistance of the art teacher, Mrs. Rebecca Planer, as well as Mrs. Carol DelConte, co-coordinator, students were given the opportunity to express their creativity through their wings.
Members of the staff and community generously helped with the official counting, videotaping, and timing of the event – all elements of the world record process to which applicants must strictly adhere. Mrs. Tamara Benc, who coordinates the Read Across America assembly and annual book swap and spearheaded the world record attempt, made nearly 400 sets of antennas for participants to wear. Video, photographic, and written evidence was submitted to Guinness and nearly nine months later, in December 2020, the district received word that their attempt by 367 students, teachers, and staff was successful. Readers are encouraged to do an online search using the phrase "Guinness world record: largest gathering of people dressed as butterflies" to access the official site and announcement.
Photos by Garwood Public Schools