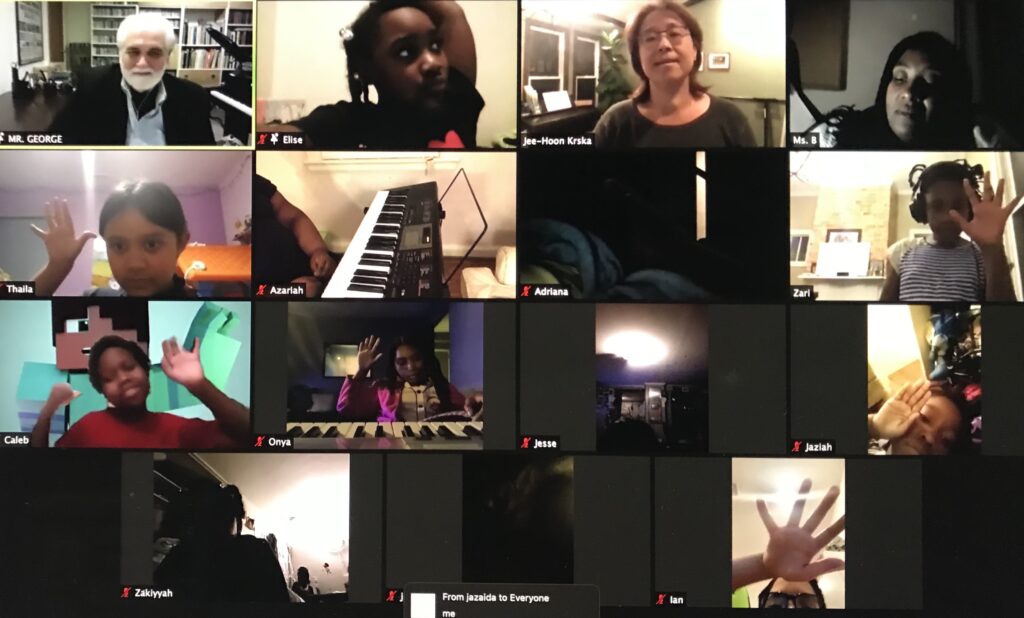 Keys 2 Success Visited by George Marriner Maull
Submitted by Sujatha Shan
On a recent Thursday afternoon, 16 students from Keys 2 Success joined an online music class with a special guest. Usually, their music classes focus on playing the piano; Keys 2 Success (or K2S) provides classical piano instruction to elementary school children in Newark. But when George Marriner Maull joined them that Thursday, the lesson focused not on playing but on listening.
Maestro Maull is the Artistic Director of The Discovery Orchestra, which teaches children and adults the art of actively listening to music rather than hearing it as background to other activities. Through this kind of listening, people become more aware of the progression and nuances of a piece and become more connected to its emotion and the story the music tells.
Maestro Maull—or Mr. George, as the students called him—played excerpts from Camille Saint-Saëns' Carnival of the Animals, which was written to conjure various animals. As the music played, the children saw pictures of several animals that the music might be trying to evoke. Then the children "voted" online for the animal they thought the music described. "I think it's the lion because the music sounds sneaky, like a lion looking for prey," offered one. Another offered, "There's the part where it's stalking, but then it gets loud, like the lion is roaring!"
Jee-Hoon Krska, founder and lead teacher of K2S, described the session with The Discovery Orchestra as the perfect collaboration. "Learning to play and learning to listen are separate but complementary skills. When these kids are invited to connect to a work through listening, they experience the emotion music can convey. That awareness raises their own level of playing—and enjoyment."
Another key ingredient in the collaboration, Ms. Krska added, is reciprocity: "Classical music needs new listeners to survive. And these kids, even if they may not play piano for life, will probably be music listeners for life."
Developing life-long listeners is one of Maestro Maull's goals, and it began with an experience he had as a 4-year-old. Sitting on the floor of his aunt's living room, he watched his aunt put a newly-arrived record on the phonograph. As the music emerged, "I was electrified," he said. The recording was the New World Symphony by Antonin Dvořák.
"If I can bring that experience to other people—adults and children—I know I'm making a positive difference in the world," Maestro Maull observed. "And these kids are such great learners!" Even virtually, one can see the children listening intently, commenting exuberantly, and delighting in what they've discovered in the music. A few who performed a piece for Maestro Maull as part of the virtual lesson were equally pleased by his reaction to their music and the expression they had brought to it.
"I'm sure the collaboration will continue," Ms.Krska said. "We all—children and teachers alike—got so much out of it!"
Keys 2 Success is a not-for-profit founded in 2016 to provide music education to children in public elementary school and project housing in Newark, NJ. Visit them at keysnewark.com, or on YouTube and Facebook.
Since 1996 Artistic Director George Marriner Maull and The Discovery Orchestra have helped audience members to personally encounter "Aha!" moments in music through interactive live concerts, television shows, online educational videos, and now on the radio. Learn more at discoveryorchestra.org.