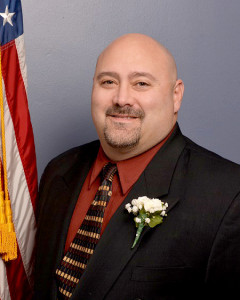 Fall is here! I know many of you enjoy your Summers, but Fall has always been my favorite season, I love the cooler days and nights. Just a reminder, October also means we have less than 3 months until Christmas! Now that School is back in session and it gets darker earlier, keep a careful eye when driving and watch out for kids walking and biking. We have gone through a tough September, it seems Mother Nature is giving us all a run for our money. Please keep all those affected by these storms and hurricanes in your thoughts and prayers. If you can, there are many organizations donating all kinds of goods to affected areas, some of these people have lost everything. Hurricane season is not over, I said last month that this season could be extremely active, I hope we are spared the worst of it. Be proactive and prepared.
David Villa Franca will be doing the carpets in Boro Hall for his Eagle Scout Project. This is the highest Rank a Boy Scout can achieve, he is going to fund raise to get the necessary tools and materials to complete the project. We are very grateful to Troop 83; the Scouts always are there to lend a helping hand. Any and all contributions will be greatly appreciated.
Here are some important dates for October:
October 1: Kenilworth Police Officer Michael Devlin has been selected as this year's Union County Military Hero! This award is given to Veterans who display leadership, respect, citizenship, and patriotism in their daily lives.
October 7-8: Kenilworth Community-wide Garage Sale   Sat./Sun. (9 a.m. – 4 p.m.)  Registration/$12 fee required.  Registration instruction at Borough Clerk's office, Public Library, and Especially Yours Florist. Free Garage Sale map/address listing at those sites plus ACME Market (after 10/5)
October 11: Bulk Pick Up North Side of Town
October 18: Bulk Pick Up South Side of Town
October 21-22: "Four Centuries in a Weekend" at the Nitschke House,  Sat. (10-5)/ Sun. (12-5)Oswald J. Nitschke House (49 S. 21 Str.)  Tour the restored, elevator-equipped c. 1880 home of former Kenilworth Mayor Oswald J. Nitschke.  Featured "living history" program and exhibit to be announced; view the site's newly planted "teaching gardens"; participate in a garden-to-table cooking demo and more! Admission is free!
October 28: Mohegan Sun Bus Trip – Departs Kenilworth 8 a.m., returns about 9pm Motorcoach transport: 6 hr visit to casino with beautiful shops. For tickets or more information contact the Kenilworth Historical Society 908-709-0434 or 908-709-0391
October 28: Kenilworth Rec host the Annual Spooktacular at DiMario Park from 7pm-10pm. Refreshments, Trick or Treating, Games pictures and so much more. Entrance "fee" is a donation of either a large bag of candy or other pre-packaged trick-or-treat goodies.
October 29: Oktoberfest (4-8 p.m.) Kenilworth Veterans Center – 33 S. 21 Str. A buffet- style Oktoberfest Feast plus a performance of German and Bavarian folk dances by Bayern Verein Newark and live German – American music by Bernie's Orchestra.  Advance reservation requested.
October 31: Halloween! Borough Hall will be giving out plenty of goodies. Kids (and adults) be careful when walking, just because you see a car, don't assume they see you.
The Kenilworth Public Library has a ton of Fall events for children and adults alike, check in at www.kenilworthlibarary.org for more details
As always visit our website at www.kenilworthborough.org for more details about these events and more.
God Bless you all and God Bess America!