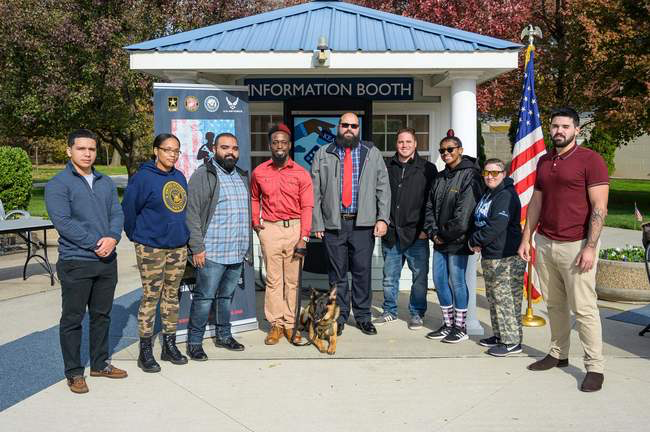 Student-Veteran Receives K-9 Service Dog from Rebuilding Warriors
A special Veterans Day ceremony was held on Kean University's Union campus as senior Jason Pryor, a U.S. Army veteran, introduced the K-9 service dog that he received through an on-campus fundraiser.
Pryor, a senior from Elizabeth majoring in exercise science, did tours in Iraq and Honduras and suffers from PTSD. He received the K-9, named Keen, at the start of the Fall semester as a gift from the Kean Office of Student Government.
"Being with Keen has taught me to be more patient," said Pryor, whose dog accompanies him to class. "Keen is used as a measure to help prevent me from going through the symptoms and effects of spiraling down, by me tending to his needs and having him tend to me."
Kean is ranked first in the nation among large public schools for its programs supporting student-veterans, according to the Military Friendly Schools survey.
Student Government raised nearly $20,000 to support service dogs through Rebuilding Warriors, a volunteer non-profit organization whose mission is to provide trained service dogs to veterans. The bulk of the funds raised went toward training Pryor's dog, and the rest was donated to Rebuilding Warriors to help train other K-9 dogs.
At the ceremony held outside Miron Student Center, Vito Zajda, director of Veteran Student Services at Kean and a U.S. Coast Guard veteran, called Pryor a remarkable student.
"He has been a big support and influential person in our program," Zajda said. "He has helped open our eyes about how the University can best support its vets."
Vice President of Rebuilding Warriors Jeff Mullins, also a veteran, said post-traumatic stress disorder (PTSD) is a condition that can't be seen by others. "It's invisible, stays with you your entire life, and it's not easy sometimes," he said. "Our goal is to provide veterans and first responders with a service dog to help them achieve their new normal."
The University's Veterans Day event included a color guard, a performance of the national anthem by the Kean Gospel Choir, and the presentation of other honors.
Juan Leon Torres, a senior from Spotswood also studying exercise science and a U.S. Navy veteran, received the 2019 Kean Veteran's Award for Outstanding Mentor. He develops transition opportunities and initiatives, and mentors a student-veteran each semester.
"Being a veteran and going back to school is super hard because you go from one community to a different lifestyle," Torres said.
Zajda noted that it is important to support veterans at all times. "The importance of Veterans Day is to recognize that it's 365 days a year, as veterans go through different highs and lows in their lives," he said.
About Rebuilding Warriors – A 501(c)3 Non-Profit Providing Service Dogs to Veterans
Rebuilding Warriors provides highly trained and socialized Service/Companion Dogs to Veterans diagnosed as Amputees as well as those with PTSD, (Post Traumatic Stress Disorder) and TBI (Traumatic Brain Injury). Most of our dogs are bred especially for this mission and have a highly sought after demeanor. We provide these dogs to Honorably Discharged Veterans from any branch of the Armed Forces or from any service era meeting our eligibility standards as well as First Responders.
We purchase our dogs from reputable breeders. These young dogs will be trained by us and have a good foundation of obedience and manners so as to easily bond with their new owner and family. We will sponsor these Wounded Veterans with their companion/mobility dog, provide training and home set up of equipment.
These dogs become great confidence builders aiding these men and women as they return to society. It will become a challenge for the participants to raise and care for these world class animals. The unconditional love given and received by these dogs will teach these warriors to ignore their own self-imposed limitations. Please help me change the lives of these warriors one dog at a time.
For more information please visit rebuildingwarriors.com.