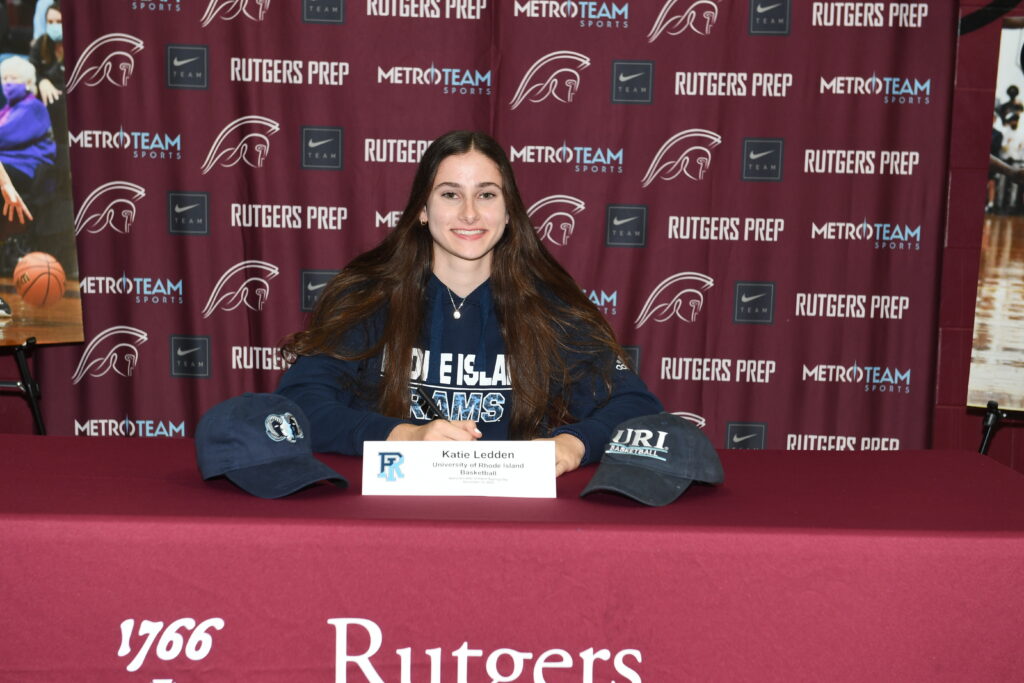 Katie Ledden Signs with URI
On November 10, 2022, Katie Ledden, a Clark Resident and a Senior at Rutgers Preparatory School in Somerset, NJ, signed a National Letter of Intent (NLI) to play Division 1 Basketball at the University of Rhode Island (URI). Ledden originally verbally committed to URI on November 1, 2021, but could not legally sign and formally commit until the recent NCAA National Signing Day of her senior year.
Ledden attended Arthur L. Johnson High School as a freshman before transferring to Rutgers Prep her sophomore year. Ledden played with the Clark Travel Basketball program from 3rd grade until 8th grade and also played AAU basketball for Team Sharp from 3rd grade to 11th grade. She left Team Sharp briefly in 10th grade to compete in the Nike Elite Youth Basketball League (EYBL) with the Philly Rise. After receiving 10 athletic scholarship offers to play Division 1 basketball at various schools, she ended her recruiting process early before her Junior season when she verbally committed to Rhode Island and knew that was where she wanted to play her collegiate career.
In a press release on signing day from the Rhode Island Women's basketball program Head Coach Tammi Reiss had this to say about Katie, "Katie is true New Jersey guard! Hard-nosed, hard work through and through. She has great length and size for the guard spot. Katie loves basketball and lives in the gym, always working on her game. She gives us much needed 3 level scoring and has a high IQ for the game. Katie is my Rocky Balboa!"
Ledden still has her senior year to play at Rutgers Prep where she hopes to help her team win another State title, as well as become a 1,000 point scorer for her school.
Courtesy photo