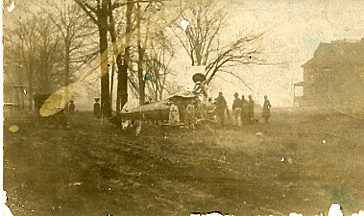 Jimmy Doolittle's Crash Landing in Kenilworth
March 14, 2021 in history marks 92 years since famed aviator and World War II hero James (Jimmy) Doolittle, who in 1942 won particular acclaim for his raid on Tokyo, crashed his experimental plane on Kenilworth's Faitoute Avenue while attempting an emergency landing in dense fog. In personal accounts, Doolittle credited the incident with reinforcing his commitment to finding a solution to all-weather flying and with forcefully demonstrating the need for blind-landing instrumentation. 
Doolittle's experimentation with instrument flying culminated several months after his Kenilworth, N.J. crash landing when, at Mitchel Field, N.Y., he became the first pilot ever to fly completely "blind" (that is, by instruments alone) from takeoff to landing — a feat considered to be among the aviator's most notable aeronautical achievements and one that was pivotal in bringing on a new era in flight safety.
Doolittle also said that the Kenilworth accident pointed out to him the importance of constant radio communications between an aircraft and the ground, the need for frequent and accurate weather reports by radio during flight and the desirability of marking emergency fields for night landings (eventually achieved by using green lights on the opposite side of flashing beacons to indicate a landing field).

The Kenilworth Historical Society is commemorating Doolittle's March 14, 1929, Kenilworth crash landing with a videotaped "living history" program posted on the organization's website (kenilworthhistoricalsociety.org) and Facebook page as part of its ongoing "Keeping History Strong" virtual programming series.  
Michael T. Naya, Jr., historian and Kenilworth Historical Society member, offers the following reflection and commentary regarding the significance and historical implications of the Doolittle crash.
Remembering the Doolittle Crash (By Michael T. Naya, Jr.)
Ninety-two years ago, a young 33-year-old James "Jimmy" Doolittle was flying to Mitchel Field, New York. With the weather being foggy and misty, bad weather and low fuel forced Doolittle to find an alternative landing spot. Having knowledge of the area, Doolittle searched the ground below for Newark Airport where he could land safely. As he passed over Kenilworth, he saw the beacon for aviators flying into Kenilworth located near Faitoute Avenue. The beacon served as a guide for pilots landing at the Kenilworth air strip which, at that time, was located on the Kenilworth Boulevard near North 24th Street.
As Doolittle made his descent, his plane crashed on Faitoute Avenue. As word spread, Kenilworth volunteer firefighters and Kenilworth Police Department officers reported to the scene. Several eyewitnesses to the crash were the late Alfred Heeny, Eugene Coppola and John Arthur. In a 2010 interview with Kenilworth Historian Walter E. Boright, Jr., the late Eugene Coppola stated,  
"My family lived at 21 North 20th Str. A bunch of us kids were playing. It was twilight when we heard a plane flying overhead. As we always did, we looked up to count the wings – one or two. It had two. When we saw the plane going down, we ran down 20th
Str. and came out on Orange Ave. near Newark Ave. Faitoute Ave. came all the way up to Orange Ave. in those days, right near Newark Ave. So down we hurried along Faitoute Ave. When we got to the crash site, there already were other kids all over the place getting pieces of the plane. Some even managed to get parts of the propeller. It was somewhat of a wild scene. I went home for supper and returned later. Now even more people were there – everybody, grown-ups and all. There was a great deal of excitement. Many people were taking airplane parts as keepsakes. I had a small piece for a while but gave it away years ago."
Throughout the years, several claims have been made about who exactly drove Doolittle away from the crash site. It is believed that John Arthur drove Doolittle to Elizabeth, unsuspecting that this young aviator would go on to make history. On April 18, 1942 Doolittle, along with seventy-nine raiders, would make history as the first men to pilot B-25 bombers off the deck of the aircraft carrier the USS Hornet. These eighty raiders were the first to strike back against the Japanese following the attack on Pearl Harbor. This attack became known as the Doolittle Raid, which ultimately boosted morale during World War II. Jimmy Doolittle passed away on September 27, 1993 at the age of 96. Today his exploits are remembered vividly, and who would have guessed such a small town would have a connection to one of history's most famous aviators.
The Kenilworth Historical Society is an independent, volunteer-based, non-profit, tax-exempt, 501(c)(3) organization dedicated to the research, preservation and interpretation of the Oswald J. Nitschke House (c. 1880), local history and culture. For information about the organization, the Nitschke House and/or its programs, please visit the organization's website at www.kenilworthhistoricalsociety.org and/or its Facebook page. During the COVID-19 pandemic, the Oswald J. Nitschke House "living history" museum and cultural arts center is restricted to small group tours, which may be arranged by calling 908-709-0434.