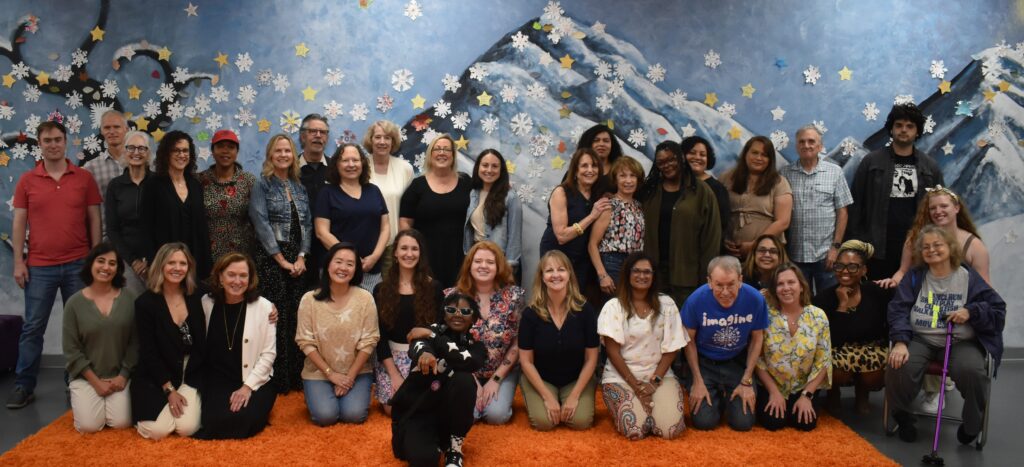 Volunteer Appreciation Night
Imagine staff recently gathered with many of Imagine's wonderful volunteers to thank them for all of their volunteer support during Imagine's 22-23 program year.
Some of the volunteers who gathered support Imagine's families by facilitating a support group for children, teens, young adults or their parents or guardians who have experienced a loss due to death. They create safe spaces where group participants can share their stories with one another and receive empathy and support.
Other volunteers at the event serve as greeters, welcoming families as they arrive for pizza dinner at the center on their Night of Support. Still other volunteers help by setting up or cleaning up the center before or after a Night of Support. Imagine could not be the resource for the families they seek to support without this amazing community of volunteers and the staff at Imagine were so happy to show their gratitude and appreciation for all that the volunteers do!
Imagine's Executive Director, Lindsay Schambach said this about Imagine's volunteers: "The volunteers at Imagine truly change lives. They are the most humble, kind, considerate, selfless human beings who sit in a room with you or your children in your moments of the most vulnerability, and they just hold space. They allow you to say everything and anything, the types of things you might not be able to say anywhere else. What they do is they create safety so that you can put yourself back together again. People who volunteer here at Imagine truly help change lives, and we hope that others who can give of themselves in that way consider joining us! The need for grief support continues to grow, and we know there are volunteers who can help meet that need."
If you're interested in learning more about becoming a volunteer at Imagine, please reach out to 908-264-3100 or emailinfo@imaginenj.org to connect with Imagine staff about volunteering options available. For those interested in training to become an Imagine facilitator, a training will be offered August 18-20 from 9am-5pm each day for facilitators for Imagine's Newark or Mountainside programs. Bilingual (Spanish/English) facilitators are also needed at both locations.
For youth interested in volunteering, Imagine is offering a training for high school age facilitators on September 10th from 9am-5pm. If you're interested in joining either of these trainings, please email Imagine's Program Supervisor, Abigail Priece at abigail@imaginenj.org or visit our website at www.imaginenj.org/support/grief-support-facilitator/.
Imagine is a 501c3 nonprofit that offers free year-round grief support groups for children ages 3-18 and young adults 19-30 who are coping with a loss due to death. Concurrently, support groups are available for the parents and guardians of the children in the groups and offered in English and Spanish. Groups are also available for parents who have lost a child aged 30 or younger. Imagine's Training and Education staff provide grief and loss education and training to the community. For more information, please visit www.imaginenj.org or contact Imagine at 908-264-3100 or info@imaginenj.org.