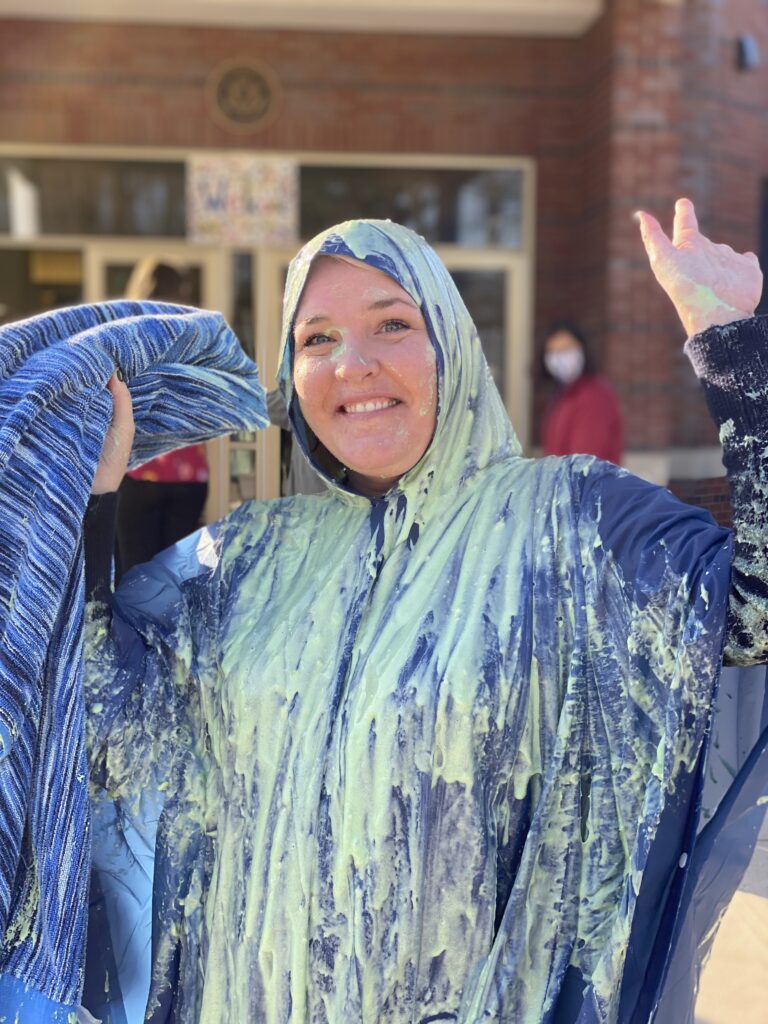 "Slime Square!"
Submitted by Christine Bava
On Wednesday, March 10, IEF Principal Mrs. Crista Fenton bravely donned a poncho and a smile as she stood underneath a dumped bucket of homemade slime for the whole community to witness.
Mrs. Fenton, a new principal to the school for 2020-2021, graciously offered to do this as a reward to the IEF community for reaching their school-wide fundraising goal during their annual Boosterthon event which took place in February. Students were encouraged to seek pledges from family, friends, and neighbors in return for dances completed in a Dance Fit dance-a-thon event led by the Boosterthon team on Friday February 26. The students far surpassed the goal for this annual event, raising over $13,000 for the Green Brook PTO.
Mrs. Fenton kindly invited her staff to watch the sliming, along with her two daughters and husband who had the honor of pouring the slime.
The IEF students and families have the ability to watch the event on the district's YouTube channel (youtu.be/PqSMbO9jMwI) or on the GB PTO's Facebook Page (facebook.com/GreenBrookPTO/).
The PTO would like to thank the students, parents, faculty, staff, and Boosterthon team for all of their efforts in making this event a success, and they also extend an extra big thank you to Mrs. Fenton and the rest of the GBTPS administration for all of their continued support. 
Photos by Green Brook Public Schools