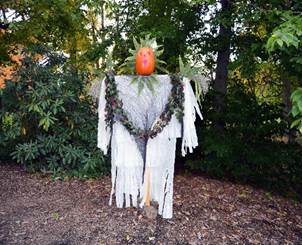 Halloween Happenings
Join in on the Halloween Fun with the Education Division of the Morris County Park Commission.
From Friday, October 9 through Friday, November 6 the Frelinghuysen Arboretum is open for Scarecrows in the Garden Scavenger Hunt. The scarecrows will be on display throughout the gardens from 8 a.m. – 6 p.m. Take a leisurely stroll or challenge yourself with a scarecrow scavenger hunt and win a prize. Preregistration is required and the cost is $10 per family.
Fosterfields Living Historical Farm is talking about spiders during the Spider Sense program on Tuesday, 
October 13 at 1 p.m. It's time to learn, virtually, about the creepiest bugs of Halloween; spiders! This class is all about our eight legged friends and the work they do for our benefit. Learn how the create webs, use vibrations to track movement, and help us get rid of pests. During the class, create your own web and see what a spider can do! Cost is $10 per child and registration is required. And, don't miss A Spooky Story – Hunt on the Farm Friday, October 30 at 1 or 1:30 p.m. and Saturday, October 31 at 10 or 10:30 a.m. and 1, 1:30 or 2 p.m. Explore Fosterfields in a new way with a fun Halloween themed scavenger hunt. Search the farm for spooky story inspired finds.  Complete all the activities to receive a prize. Cost is $10 per person and registration is required.
Join the staff of the Great Swamp Outdoor Education Center for a creepy, crawly good time on Friday, October 16 for Virtual Incredible Insects from 4 – 4:45 p.m. Meet our LIVE resident creepy crawlies and learn what makes an insect an insect. Then make a walking stick bug craft in this LIVE, virtual presentation. Participants call ahead to pick up their materials at the Great Swamp OEC. All participants must have at home: liquid glue. This is program is great for ages 4 & up and is $10 per child and reregistration is required. Also, on Friday, October 30 Not So Creepy Virtual Presentation from 4 – 5 p.m. Just in time for Halloween, learn why some animals you might have thought of as creepy and scary, like bats and spiders, are not so bad after all. We'll dispel misconceptions and leave you looking at animals in a whole new light during this LIVE, virtual presentation. Cost is $10 per household and registration is required.
Visit www.morrisparks.net to register for these great Halloween programs.
The Morris County Park Commission features one of the region's best park systems in the state of New Jersey. It currently protects and maintains 20,197 acres at 38 distinct sites plus offers a year-round calendar of events and activities for all to enjoy!
Check our Events Calendar for More Local Events