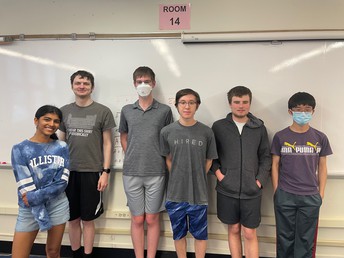 GLHS Programming Club Ranks in the Top 25
Berkeley Heights Public Schools
GLHS students in the Programming Club (also known as the Coding Club) participated in the "American Computer Science League" Competition which ran from November 2021 through May 2022. During the competition, the GL team competed against over 500 teams across the United States, Canada, Europe, and Asia.
In the "Senior 3" Division, the GL team scored in the Top 25 of all schools, edging out competition from schools across the United States, China, Indonesia, Canada, Taiwan, and more.
In addition, three students – Juniors David Andrews and Daniel Long, and Sophomore William Ng, competed in the ACSL Invitational Finals in late May. Out of over 500 students, the team scored in the top 300, with Daniel Long finishing in 32nd place and earning Bronze medal honors.

This relatively new club was formed three years ago by GLHS Juniors David Andrews and Daniel Long. The overall goal of the club is to learn coding (no experience necessary), talk about and develop projects, find resources for skill building, and explore STEM applications. The club members themselves found the ACSL competition and decided to participate in it.
According to GLHS Math Teacher and Club Advisor Justin Polce, "The students in the club are diligent, self-motivated, and very helpful when it comes to learning code, discussing cool projects, and competing in the ACSL. I'm very proud of them for the work they have done, and the foundations they have built for programming at Governor Livingston High School. Computer Science is a key skill to have now, and in the future, and we explore everything from Python to C++ to Boolean Algebra. These students are the leaders we need to help advance the district and the community in these areas."
Congratulations to all the members of the club: David Andrews, Susan Gleason, Daniel Long, William Ng , Aiden Racelis, Poorva Vakaria, and Alex Watson on these tremendous accomplishments. 
Photo by BHPS