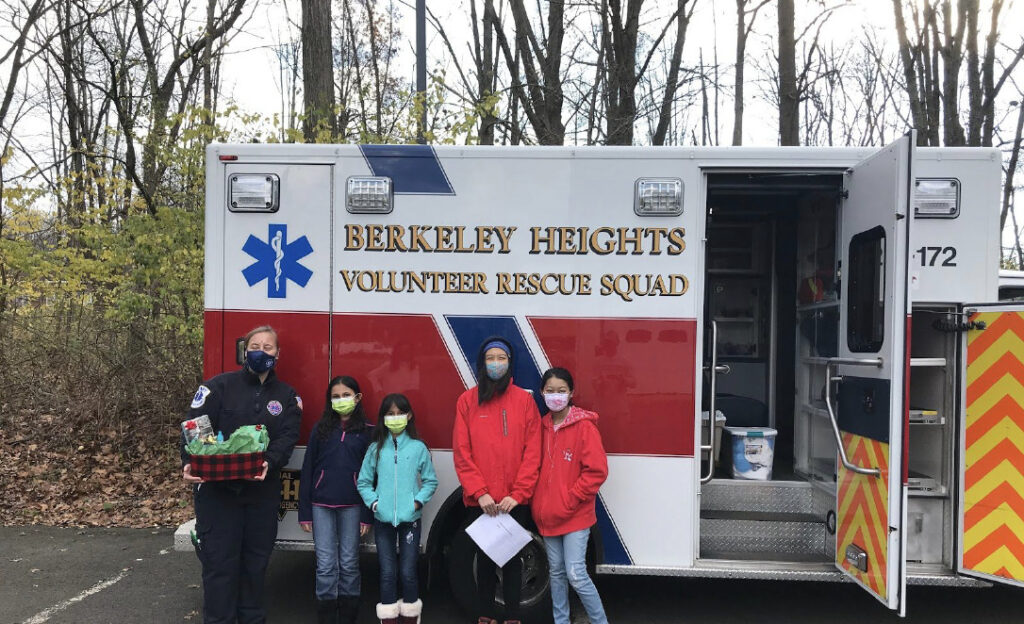 BH Volunteer Rescue Squad Interview
On November 28, 2020, Jaslene, Tara and Trisha of Girl Scout Troop 40944 visited the Berkeley Heights Volunteer Rescue Squad (BHVRS). The Girl Scout troop interviewed Deputy Chief Marc Schnitzer (soon to be the Chief in January 2021) and two crew members.
They wanted to interview the crew to understand how they operate, especially during the night time, as part of their Night Owl Badge. They got to see a pager or a walkie talkie go off, alerting an emergency call just received. The crew also showed some of the medical equipment
The girls scouts asked questions such as "How do you stay awake during your night shifts?"; "Why do you work at night?"; "Are you scared when the patient is sick?"; "What training did you go through?"; and "What was the most gross thing you've touched?"
The girl scouts learned a lot about BHVRS through this Q&A session. They learned that BHVRS collaborates with neighboring towns when needed under a "Mutual Aid" arrangement. In addition, an "Advanced Life Support" (ALS) team will get involved in severe incidents. It takes a network of first responders to keep our community and citizens safe.
The girl scouts send thanks to the BHVRS for doing a great job protecting our community from harm. Special thanks to Deputy Chief Marc Schnitzer and crew members Dominique Salazer and Virginie Delwart for participating in the interview. They added "thank you to our troop leaders for allowing us to interview this amazing team of compassionate helpers. We are grateful for this opportunity!"