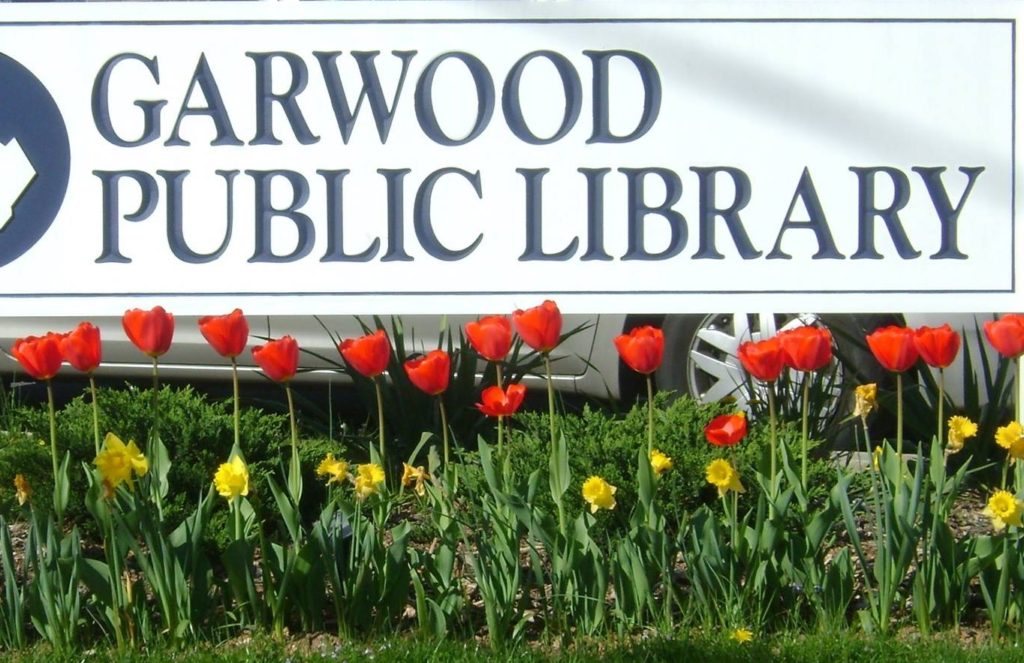 Garwood Public Library October 2021
Mask-erade contest
October 1 through October 27
You're invited to ditch the traditional Halloween mask and decorate a cloth face covering. Pick a mask up at the library, while supplies last, or provide your own. Once decorated take a selfie with the mask, then send the photo to garwoodlibrary@garwood.org. We will post them on our Facebook and Instagram pages. One adult and one child prize winner will be chosen by the library staff on October 29. All entries must be submitted by October 27 by 5 p.m.
Leaf Something Positive
October 1 – November 30
Write a positive or encouraging message on a leaf and hang it from our tree. 
Shoe Drive
October 1 – November 30
The Library, in collaboration with MoreSteps, are seeking donations of new or lightly worn shoes to benefit the Ozanam Family Shelter in Edison. Please write the shoe size on a paper, place it inside the shoes, put the shoes in a sealed bag, and drop them in the box located in the Library parking lot.
Storytime at Hartman Park
October 5, 12, 19. and 26 at 10:30 a.m.
Join Miss Maryanne for a Storytime, bubbles and more at 10:30 a.m. at Hartman Park, located at 431 Second Ave in Garwood, weather permitting.
Library Board Meeting
October 6 at 7:30 p.m.
A meeting of the Garwood Library Board of Trustees will take place in the Library. This meeting is open to the public. Masks and social distancing are required
Artist's Passport
October 7, 14, 21, 28 at 3:30 p.m.
Embark on an around the world art adventure from the Americas to Polynesia. Experiment with techniques developed by local artists and artisans. Make a different masterpiece each week including: drums, masks, canvases and more. For children in Kindergarten through 6th grade. Registration required. The program will run each Thursday in October at 3:30 p.m., concluding on October 28.
Virtual Kid's Craft
October 12, 2020 at 3 p.m.
Pick up supplies for a Halloween inspired craft and then watch craft tutorial on the Library's Facebook page at 3 p.m. The video will be available for viewing thereafter. Registration is required for craft kits and is limited to 15 participants. Sign up on the Library website's events calendar or by phone.
Ship Presentation via Zoom
October 12 at 7 p.m.
A representative from Sage Eldercare will explain the facts about the State Health Insurance Assistance Program (SHIP). SHIP provides free help to New Jersey Medicare beneficiaries who have questions about their health insurance. The presentation will be followed by a question-and-answer session.
Fall Fun Amigurumi via Zoom
October 13 at 7:00 p.m.
Learn the basics of making Amigurumi or crocheted stuffed animals. This is the second and final class to complete the autumnal candy corn! Registration is closed. A Zoom link will be sent by email prior to the program.
Book Discussion Group via Zoom
October 18 at 1 p.m.
Join us for a lively discussion of this month's book "Fifty Words for Rain" by Asha Lemmie. Once registered for the club, a Zoom link will be sent via email.
Virtual Adult Craft
October 19 at 3 p.m.
Decorate a Halloween inspired craft. Pick up your craft supplies from the Library and then watch the Facebook tutorial at 3 p.m. Registration is required for craft kits and is limited to 10 participants. Sign up on the Library website's events calendar or by phone
Estate Planning Simplified via Zoom
October 20 at 7 p.m.
Join local attorney Anne Marie Murzin, Esq. as she presents Estate Planning in a nutshell. She will discuss the legal concepts raised by Wills and Trusts and present an ideal way to get your important papers organized for estate planning. Once registered a Zoom link will be sent via email.
For more information and to register for programs, call 908-789-1670 or email garwoodlibrary@garwood.org.
Library Hours
The Garwood Library is open Monday, and Wednesday from 9 a.m. to 5 p.m., Tuesday, Thursday from 9 a.m. to 8 p.m., Friday 9 a.m. to 4:30 p.m., and Saturday 10 a.m. to 1 p.m. Ten people are permitted in the library at a time for one hour, no appointments necessary. One hour computer use is permitted. Staff is available to copy and fax for the public. Curbside service is also available. The Library will be closed October 11, for the Columbus Day holiday.