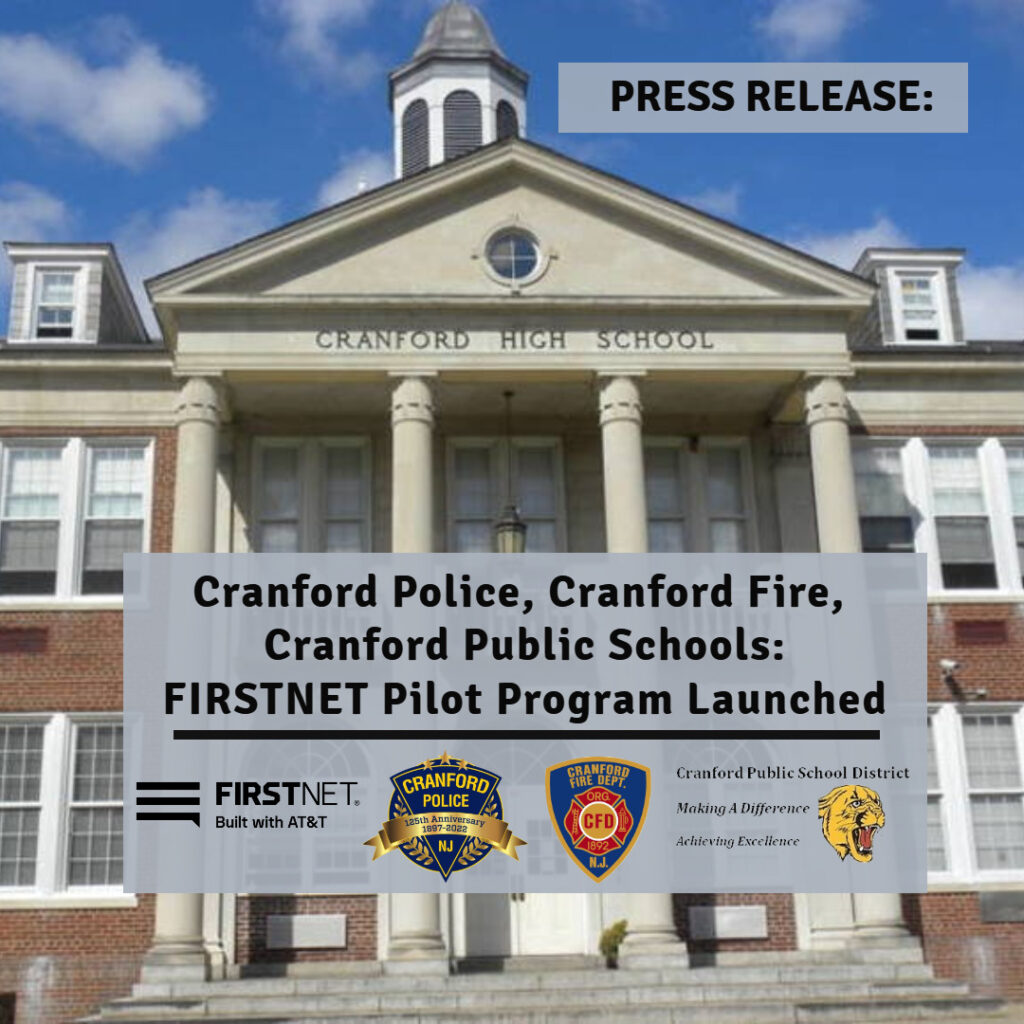 Firstnet Communication Technology
Cranford Police and Fire Departments have joined forces with the Cranford Public Schools in connecting first responders and school administrators to FirstNet – a communications platform just for public safety. With this tech advancement, first responders are equipped with new capabilities and reliable access to critical information while in the field – with an additional feature of direct communication with school officials during critical incidents. That allows first responders and school officials to better serve those who attend Cranford Public Schools. FirstNet is designed to improve communications across public safety entities nationwide, allowing first responders to easily and quickly communicate with one another during everyday situations, big events or emergencies. This is integral to solving for the common roadblock that communications issues have posed on past public safety responses.
The Cranford Police and Fire Department are currently using FirstNet within their vehicles, as their mobile modems, and department-issued phones. Integrating the Cranford Public Schools and specifically Cranford High School into this same platform will allow for immediate and direct communication between First Responders and Cranford High School's Administration and Staff using FirstNet's Enhanced Push-To-Talk Application.
In Cranford High School, this new technology Utilizes Cellular Boosters strategically placed throughout the school to ensure clear communication throughout the entirety of the school and campus. By replacing an aging point-to-point radio system with the FirstNet system, traditional barriers in communication are reduced, and immediate communication with police officers during a crisis is ensured. With Cranford High School being the largest school within the school district, it is being used as a pilot location for the Cranford Board of Education. According to Dr. Scott Rubin, Superintendent of Schools, there are plans to expand the program throughout Cranford Schools. "The safety of our school community will always be our number one priority and we are committed to exploring new practices while enhancing existing ones," Dr. Rubin said. "We look forward to providing this service districtwide in the very near future and want to thank our amazing safety professionals for their continued partnership."
This joint venture was facilitated by Cranford Police Department Captain Guy Patterson, Cranford High School Principal Mark Cantagallo, and FirstNet Sales Consultant Joseph Greco with the support of the Cranford Public Schools Superintendent of Schools Dr. Scott Rubin and Business Administrator Robert Carfagno.
"In any response, reliable communication is paramount to our ability to get the necessary resources on scene to provide assistance. The Cranford Board of Education partnering with the Cranford Police Department to utilize FirstNet's suite of applications will enhance our responders' ability to communicate directly with school staff as an incident unfolds," said Captain Guy Patterson. To learn more about FirstNet, go to FirstNet.com.