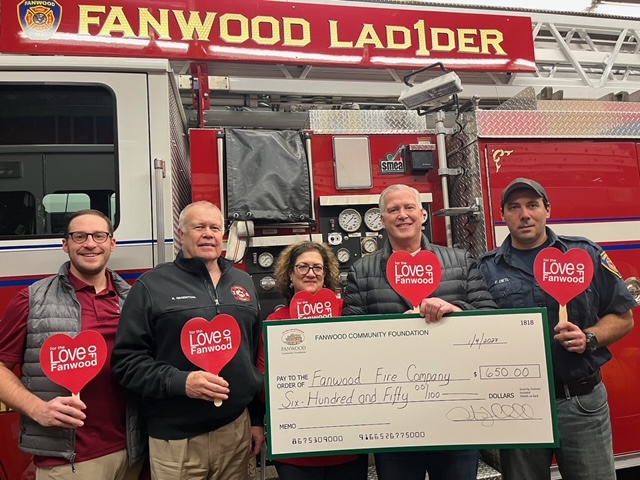 Fanwood Community Foundation Celebrates 25th Year
Fanwood Community Foundation
In 1998, four Fanwood residents, Bob and Carol Kraus, Fred Chemidlin, and Ted Frankenbach wanted to give back to the community where they lived and raised their children. They formed FCF primarily with donations to better the Fanwood community, which meant so much to them. What began with funding to help purchase Fanwood's Millennial Clock has culminated into 25 years of grants contributing to various organizations that serve our residents, such as Caring Contact, Court Appointed Special Advocates of Union County (CASA), Fanwood Fire Department, Fanwood Memorial Library Capital Project, Fanwood Pocket Park, Fanwood Rescue Squad, Fanwood Youth Organization, Heart For Humanity, IHM Food Pantry, Jam Kancer Foundation, Resolve Community Counseling, SPF Baseball League, SPFHS Project Graduation, Tiny Tim Fund, The Center For Women And Families, TV35, Wolves Basketball Academy, and the YMCA Capital Campaign.
In 2022, FCF was able to provide funding for the IHM Food Pantry and grants for listener training at Caring Contact, volunteer advocate training at CASA of Union County, POAC Autism Shield Program training for Fanwood Volunteer EMT & Fire Department, and an Eagle Scout project commemorating Fanwood as a Revolutionary War site.
In this, our 25th year, please help us continue to support these worthy causes that benefit our residents. Visit us at fanwoodcommunityfoundation.org to learn more and to donate.
The Fanwood Community Foundation's mission is to fulfill the charitable goals of our donors while supporting the current and future needs of our community.
Courtesy photo